""の結果はありません
検索に一致するものが見つかりませんでした。別の用語でもう一度お試しください。
What Is L2 Blockchain Base Launched by Coinbase?
Coinbase has launched Base, a layer 2 network built using Optimism's OP Stack. Coinbase is not only joining Optimism as a core developer of the open-source OP Stack, a developer toolkit for the Optimism network, but also providing easy and secure access to layer 2 networks like Optimism, as well as other blockchain ecosystems such as Solana. This article discusses the Base testnet launched by Coinbase and introduces its features.
What Is Layer 2 Blockchain Base?
Base is an Ethereum L2 platform that is designed to bring the next billion users to web3. It is secure and cost-effective, making it easy for developers to use. Base blockchain is supported by Coinbase and with time, it will become increasingly decentralized.
What Are the Features of Base Blockchain?
Secured by Ethereum.Base is an Ethereum L2 built with the security and scalability you need to power your decentralized apps. Confidently onramp and secure user assets from L1 and easily interoperate with other L2 chains.

Big features, small fees. Get the EVM environment at a fraction of the cost. Get early access to Ethereum features like Account Abstraction (ERC4337), simple developer APIs for gasless transactions, and smart contract wallets.

Open source.Base is built on the MIT-licensed OP Stack, in collaboration with Optimism. We're joining as the second Core Dev team working on the OP Stack to ensure it's a public good available to everyone.

Scaled by Coinbase. Base is the easiest way for decentralized apps to leverage Coinbase's products and distribution. Seamless Coinbase integrations, easy fiat onramps, and access to 110m+ users and $80B+ assets in the Coinbase ecosystem.
How Does L2 Base Work?
Coinbase will join OP Labs in contributing to the mission of the Optimism Collective, extending the OP Stack's lead as the most OverPowered public good in the game.

Base will commit a portion of transaction fee revenue back to an Optimism Collective treasury, furthering the vision for a sustainable future where Impact = Profit.

Base will have comparable fees to Arbitrum or Optimism in the 10- to 50-cent range, with plans for it to drop near 1 cent over the next year.

Base will be integrated across Coinbase's exchange, wallet, NFT marketplace and developer products, and plans to be interoperable with other blockchains in the ecosystem beyond Ethereum.
What Projects Are Planning to Build on Base?
A handful of crypto businesses, platforms, marketplaces and infrastructure firms, such as Blockdaemon, Chainlink, Etherscan, Quicknode, Aave, Animoca Brands, Dune, Nansen, Magic Eden, Pyth, Rainbow Wallet, Ribbon Finance, The Graph, Wormhole, and Gelato, have committed to building on Base.
How to Mint Base Coinbase NFT?
The Base team announced a free, open edition mint of Base, Introduced to celebrate the testnet launch and let everyone join the broader Base community.
The commemorative NFT celebrates the initial launch of Base. 1 per address, freely mintable on Zora through Sunday at midnight EST. The steps are as follows:
Step 1: Visit Base, Introduced, then click "Mint - Free"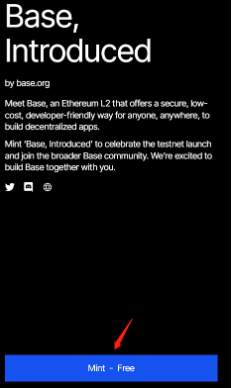 Step 2: Connect your wallet, click "Mint", then confirm on your wallet, pay the gas fee.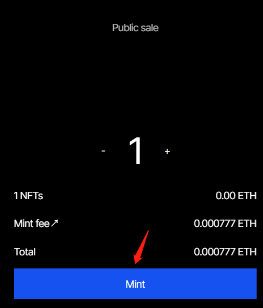 When Will the Coinbase L2 Blockchain Base Mainnet Launch?
The Base chain's mainnet launch is anticipated to take place during Q2 of this year(2023), although no specific date has been confirmed yet as the chain is still in its testnet phase.
---
Stay tuned to CoinCarp Social Media and Discuss with Us:
免責事項:CoinCarpに掲載されている情報は、引用されたライターによるものです。CoinCarpの投資に関する意見を表明するものではありません。投資判断の前にご自身で調査されることをお勧めします。提供された情報は自己責任でご利用ください。詳しくは免責事項をご覧ください。