Sonuç bulunamadı: ""
Aradığınız terimle eşleşen bir sonuç bulamadık. Farklı bir terimle tekrar deneyin.
Desteklenen blok zincirleri
Bitcoin

Ethereum
XRP
XRP Ledger

Bitcoin Cash

Litecoin

EOS

BNB Chain(BEP20)

opBNB
+14 diğer blokajlar
SafePal Bilgi
What is SafePal Wallet?
SafePal is dedicated to providing a secure and user-friendly crypto management platform for the masses to secure and grow their crypto assets safely and conveniently. It is the first hardware wallet invested and backed by Binance.
SafePal is now serving more than 2,000,000+ users from more than 146 countries through its unique hardware wallet and software wallet product lines, all paired and managed through the SafePal App, where users can easily secure, manage, swap, trade, and grow their crypto wealth without compromising asset security.
Who are the People Behind SafePal?
SafePal was founded in Jan 2018. The SafePal Team comes from a diverse industrial background, overlapping more than a decades worth of experience in hardware, software, UI design, and cybersecurity. As a team deeply rooted in both hardware and software, SafePal aims to resolve the current pain points hindering crypto custodian experience for the masses, and combine security, simplicity, and accessibility on a unified product. That is how SafePal came into being.
How to Use SafePal Swap?
SafePal Swap enables users to swap tokens across different blockchains. Compared to other swap services, SafePal Swap provides cheap and fast crypto swaps with low slippage. This article shows how to swap crypto using the SafePal Swap. It covers the following steps:
Step 1 Download and setup the SafePal App
Step 2 Create A Swap Order
Step 3 Sign the transaction
Step 4 Receive the swapped crypto
How Many Cryptocurrencies Does SafePal Support Now?
Till January 15, 2021, SafePal has supported 20 blockchains and more than 10,000 tokens.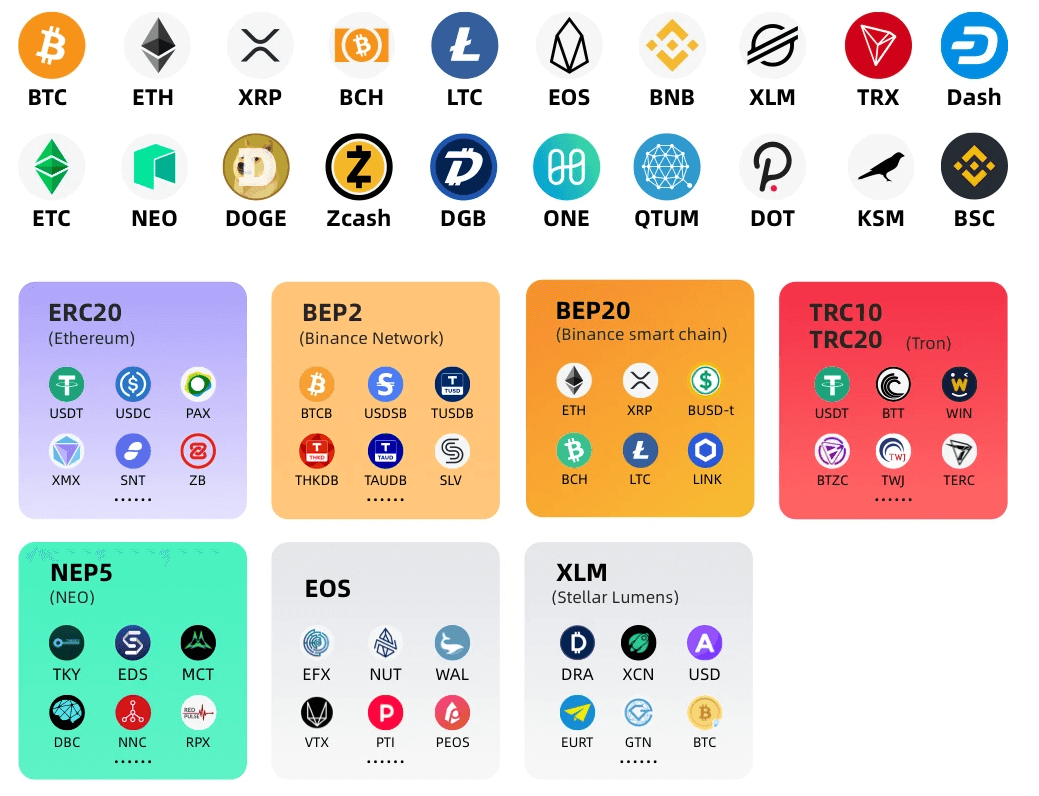 You can view the full list of tokens in each supported blockchain through the following links:
ERC20 tokens BEP2 tokens BEP20 tokens TRC10, TRC20 tokens
NEP-5 tokens EOS-tokens XLM-tokens
SafePal Swap Fee
There is a 0.3% fee upon each Swap order and 0 fee upon Bridge orders. This is excluding the necessary blockchain gas fee.
Bridge orders refer to the Swap orders that are exchanging the same token across different blockchains, such as from USDT (TRC20) to USDT (BEP20, or from BNB (BEP2) to BNB (BEP20) . For Bridge orders, SafePal doesn't charge any fee.
Supported Platforms and Download
Open the official website of SafePal(https://www.safepal.io/download) and download the latest version of SafePal.
Benzer Cüzdanlar