Keine Ergebnisse für ""
Wir konnten nichts finden, das zu Deiner Suche passt.Versuche es noch einmal mit einem anderen Begriff.
How to Mint Your Own NFTs for FREE on Opensea?
At the beginning of 2022, the largest NFT marketplace, Opensea has reached the peak trading volume in a single day since August 2021. With numerous news that a lot of crypto enthusiasts have gained a great fortune by minting and selling NFTs in the NFT marketplace, you may wonder how to mint and sell your own NFTs and be curious about the fee of minting an NFT. In this article, we will show you how to mint and sell your own NFTs on Opensea for FREE!
How to Create a Collection on Opensea?
Connect Wallet to Opensea
First of all, you need to connect your wallet to Opensea(Just like most of the marketplace). Opensea supported wallets list is as follows:
Now we connect MetaMask to Opensea. You should install MetaMask first. (If you don't know how to use or set up MetaMask wall, click to learn).
Then visit https://opensea.io/, click the "wallet style" icon in the upper right corner, then click "MetaMask".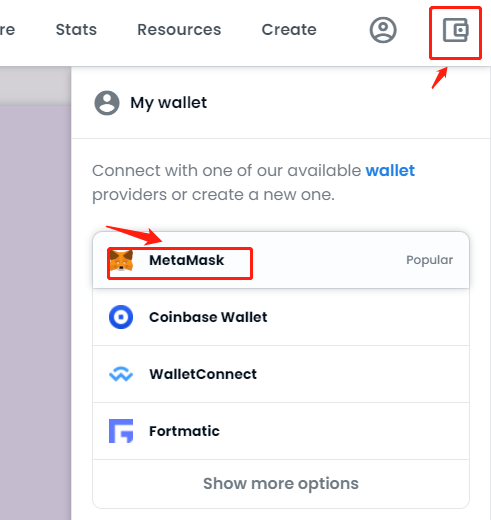 Metamask will pop up a window, tap on "connect", allow opensea to visit your Metamask public address. Now, you connect Metamask to Opensea successfully.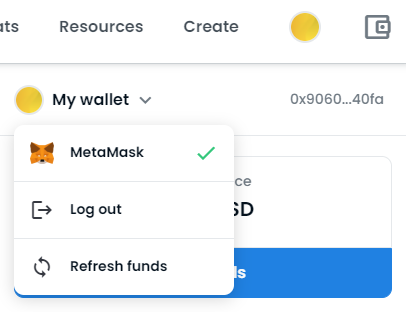 Creat and Set up a Collection on Opensea
Well, the Collection on Opensea is used to "collect" your NFT items. Opensea requires you to create a collection before minting an NFT. A collection is just like an "album", NFTs are like "songs". To do this, click "My Collection" in the upper right:
After that, Opensea will jump to a new page, then you click "Create a collection"

Then follow the web page instructions to set up your collections. It is required to set up the logo image, name. Then you can customize your URL on OpenSea, fill in the description and add Category.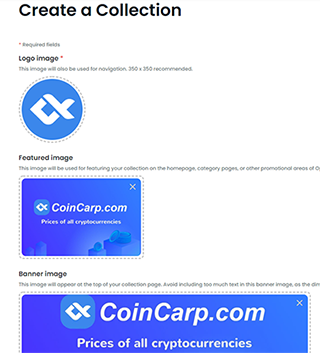 Set up the "Royalties", which means the percentage that you will get when your NFTs change hands. For example, you sell an NFT for 5 ETH, you will get 5 ETH for the first time, then if the buyer resells it to another buyer for 10 ETH, you set the "Royalties" of 10%, then you will get 1 ETH(10*10%) income.
Most importantly, don't forget to fill in your payout wallet address.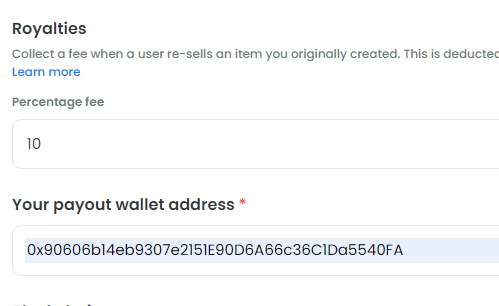 Choose the blockchain, if you wish to pay a "0" gas fee, choose the "Polygon.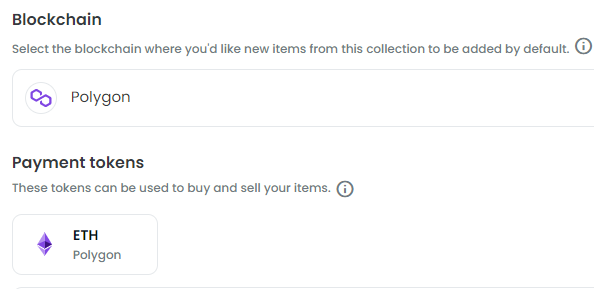 Finally, click "Create", your NFT collection will be created.
How to Mint an NFTs on Opensea?
Once you have settled up the collection successfully, you can try to mint your own NFT immediately. On your collection page, click the "Add item" icon.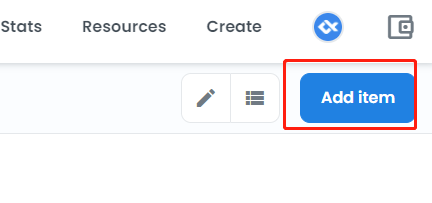 In the Opensea Create Page, you are allowed to upload files, such as JPG, PNG, GIF, SVG, MP4, WEBM, MP3, WAV, OGG, GLB, GLTF(Max size: 100 MB), and mint it to an NFT. What you need to do is upload and then fill in the "Name", "Description", and "Supply(The number of copies that can be minted. )". After filling in this information above, click "Create". Then your item will be minted successfully.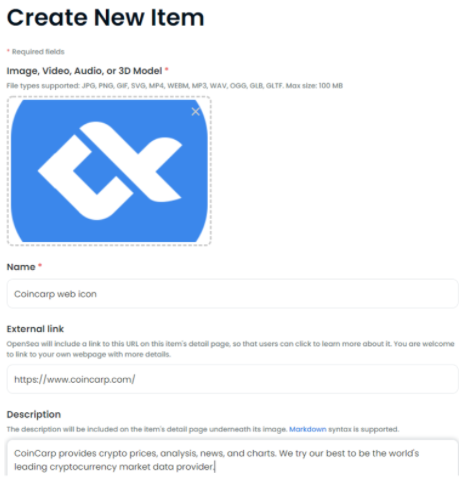 How to Sell an NFTs on Opensea?
After Minting the NFT, you can sell it on Opensea. Click the "Sell" button in the upper right.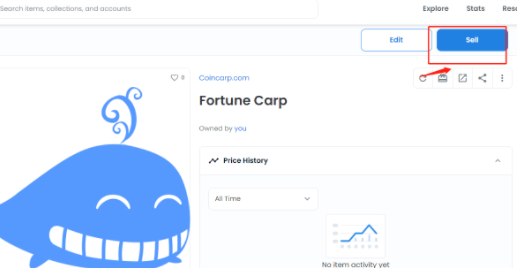 Input the "Price", set up the "Duration", then click "Complete listing"
Your NFT item will be listed on Opensea successfully!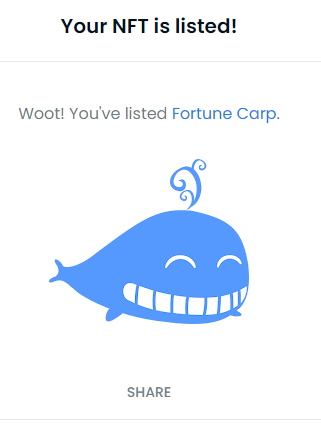 Now, you have minted and listed your own NFT for free on Opensea successfully! However, to mint an NFT is easy, to sell it to other people and make profits is not that easy. You may try to twitter it or publish it on social media to promote your NFT.
Haftungsausschluss: Die auf CoinCarp gefundenen Informationen sind die der zitierten Autoren. Sie stellen nicht die Meinung von CoinCarp über den Kauf, Verkauf oder das Halten von Investitionen dar. Wir raten Ihnen, Ihre eigenen Nachforschungen anzustellen, bevor Sie eine Investitionsentscheidung treffen. Die Verwendung der bereitgestellten Informationen erfolgt auf eigenes Risiko. Siehe Haftungsausschluss für weitere Informationen.