Keine Ergebnisse für ""
Wir konnten nichts finden, das zu Deiner Suche passt.Versuche es noch einmal mit einem anderen Begriff.
What Is a Stablecoin? What Is the Best Stablecoin?
What Is a Stablecoin?
A stablecoin is a new type of cryptocurrency that offers price stability, fixed value, and is backed by a reserve asset. Generally, most cryptocurrencies are quite volatile, because they're decentralized and not related to any government or organizations and the prices depend on supply and demand in the market. In contrast, to realize the security and privacy of payments of cryptocurrencies, and volatility-free stable valuations, stablecoin is usually backed by fiat, commodity, crypto, or algorithmic (not backed).
How Many Categories of Stablecoin?
Fiat-Collateralized stablecoins: They are off-chain assets that are backed 1:1 by fiat currency. They can be traded on exchanges and are redeemable from the issuer. Some examples of Fiat-Collateralized stablecoins: TrueUSD (TUSD), USD Tether (USDT), USD Coin, Diem

Commodity-Collateralized stablecoins: They are off-chain assets that are back by commodities such as oil and gold. They are redeemable for such (more or less) on demand. However, they are more susceptible to price movement because the commodities price change. Some examples of Commodity-Collateralized stablecoins: Tether Gold and Paxos Gold.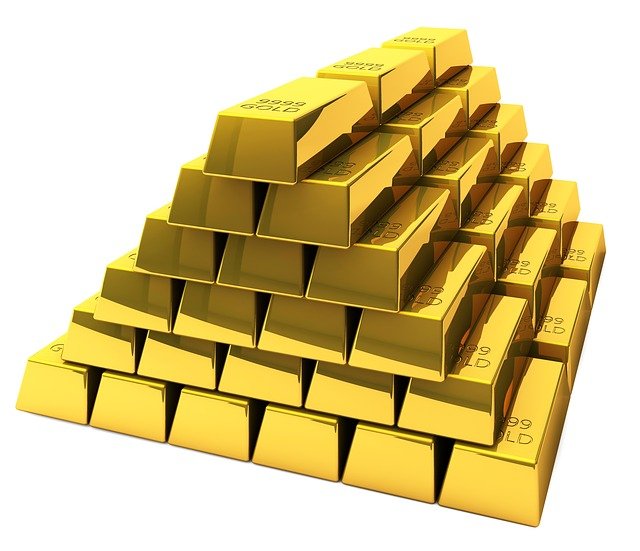 Cryptocurrency-Collateralized stablecoins: They are collateralized by another cryptocurrency or a cryptocurrency portfolio. To realize the price stability, supplementary instruments and incentives are introduced, no just the collateral. They are regulated on-chain and using smart contracts. Havven and DAI are examples of Cryptocurrency-Collateralized stablecoins.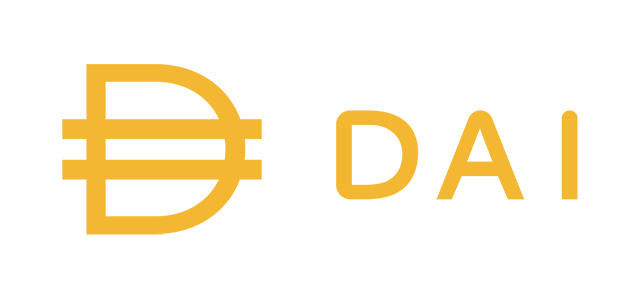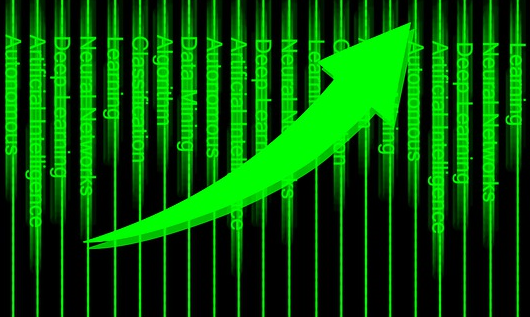 How Do Stablecoins Work?
Off-chain collateralized assets, such as Tether, require a custodian to regulate the currency and then reserve a certain amount of collateral. Tether Ltd. holds the US dollar in a bank account and the amount held must be equal to what they issue USDT to maintain the order of the system. In this way, price fluctuations are prevented. If someone owns a digital dollar and requires cashback, the holder will be provided with physical dollars and the corresponding stablecoin will be destroyed.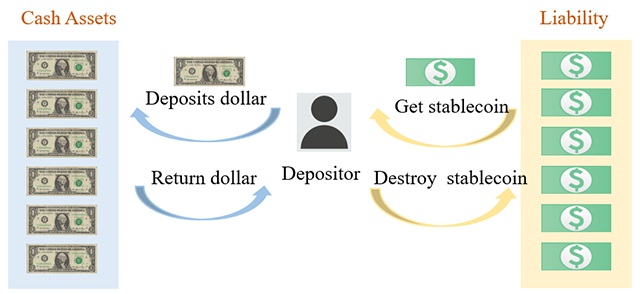 On-chain collateralized assets, such as DAI, are back by cryptocurrency. Because the reserve cryptocurrency is not stable, a 1:1 guarantee can not be promised. So the value of the collateralized cryptocurrency should exceed the issued token. Take DAI, for example, it is generated by smart contracts and the interest rates can be adjusted flexibly. To maintain the 1:1 relationship between DAI and the U.S. dollar, the MakerDAO controls the types of accepted collateral, collateralization ratios, and the interest rates for borrowing or storing Dai, then they can control the amount of Dai in circulation, and thus its value.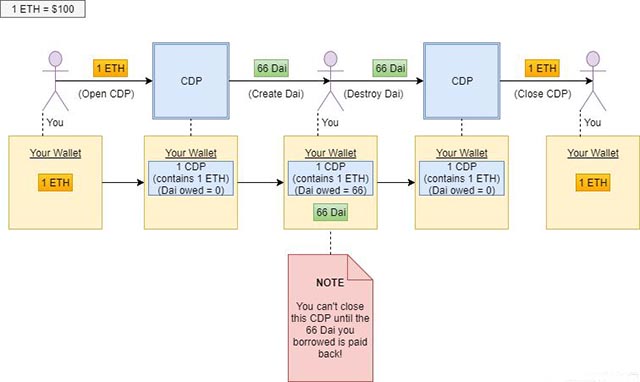 Some algorithmic stablecoins are "rebase" coins such as Ampleforth (AMPL). They adjust the supply based on the going market rate for stablecoins. If the stablecoins trade is higher than $1.05 or lower than $0.95, new tokens are issued to holders (if the price is above $1.05) or destroyed from holders (if the price is below $0.95) to reset the price back to $1. This effectively transfers volatility from price to market cap: Instead of the price changing with varying demand for a rebase token, the market capitalization does. Algorithmic stablecoins not only realize the decentralization but also do not require collateralized assets.

What Is the Best Stablecoin?
Let's look at some popular stablecoins:
| | |
| --- | --- |
| USD-pegged | Tether (USDT),True USD (TUSD),Gemini Dollar (GUSD),USD Coin (USDC),Paxos Standard (PAX),Binance USD (BUSD),DAI,HUSD,sUSD (SUSD),mStable USD (MUSD),Ampleforth (AMPL) (algorithmic) |
| GBP-pegged | Binance GBP Stable Coin (BGBP) |
| EUR-pegged | Stasis Euro (EURS) |
| TRY-pegged | BiLira (TRYB) |
| KRW-pegged | Binance KRW (BKRW) |
| Gold-backed | CACHE Gold (CGT), Tether Gold (XAUt), Paxos Gold (PAXG) |
| Others | Petro (PTR) (oil-backed),Libra (basket backed) |
According to the market cap, Tether (USDT) will be rank at first, with a market cap of over $60 billion. It is the first regulated stablecoin backed by the US Dollar launch in 2018. Tether (USDT) is a peer-to-peer blockchain and open-source cryptocurrency. It is one of the popular stablecoins and is also very helpful for transactions that often face difficulty when exchanging money into USD. Other stablecoins such as True USD (TUSD), DAI, PAX, GUSD are also quite popular, with each market cap is exceeded $100 million.
How to Use Stablecoins?
Theoretical, one of the chief ways to use stablecoins is for quick and cheap payments or money transfers on a global scale. Stablecoins provide a fast way to transfer deposits or withdrawals between fiat currencies to cryptocurrency exchanges, it also an easy payment flow, making it simple for businesses to securely send money to their employees. However, the options for directly buying goods and products with stablecoins can be limited. Many people use stablecoin to purchase crypto across cryptocurrency exchanges since it's not easy to transfer cash in and out of cryptocurrencies. It is basically a necessary "tool "for investment in other cryptos. When crypto users observe major price movements, they could move their money to stablecoins and wait for the market to stabilize. As volatility-shy investors wait for the markets to calm, they can keep purchasing stablecoins with fiat money, and that value will not change until they want to move it into Bitcoin or other cryptocurrencies.
Haftungsausschluss: Die auf CoinCarp gefundenen Informationen sind die der zitierten Autoren. Sie stellen nicht die Meinung von CoinCarp über den Kauf, Verkauf oder das Halten von Investitionen dar. Wir raten Ihnen, Ihre eigenen Nachforschungen anzustellen, bevor Sie eine Investitionsentscheidung treffen. Die Verwendung der bereitgestellten Informationen erfolgt auf eigenes Risiko. Siehe Haftungsausschluss für weitere Informationen.