해당 결과 없음 ""
검색에 일치하는 항목을 찾을 수 없습니다.다른 용어로 다시 시도하십시오.
지원되는 체인
Torus 정보
What Is Torus Wallet?
TORUS is a crypto wallet that enables one-click login for Web 3.0 applications like cryptocurrency decentralized exchanges and NFT platforms. It is the mainstream gateway for users to access decentralized ecosystems via their personal and social media accounts such as Google, Facebook, Discord, and more.
Based in Singapore, Torus is among the first batch of projects released by Binance Labs.
What Are the Main Features of Torus Wallet?
Seamless OAuth Login: Users can get started with just their Gmail account. That means we can bypass all the blockchain jargon and make a much simpler experience.
Reliable Account Recovery: No more complicated seed phrases. Torus inherits traditional account recovery systems that allow users to recover their account via email/social login.
Access to millions of users: Because Torus leverages on web2 authentication systems, the app can have access to the billions of accounts that already exist on social networks today.
Secure, simple & non-custodial: Built and designed to be trustless, users' identities are not controlled by any central authority.
How To Use Torus Wallet?
Use the web browser to visit https://app.tor.us/, you can use the social media accounts to log in the Torus Wallet.
How Do I Receive Tokens into My Torus Wallet?
You'll need your public address to receive tokens into your Torus Wallet, or send tokens into your Torus Wallet from other wallets and exchanges.
Before making the transaction, ensure that you are sending the right tokens to the right network that is currently supported by Torus Wallet.
Torus currently supports all Ethereum networks, Binance Smart Chain, Polygon (Matic), ReefChain and xDai.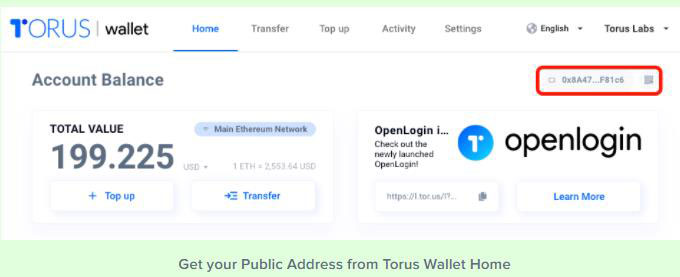 To identify your public address, ensure that you're logged into the right account, and head to your Home page, there you would be able to see your public key represented by a long alphanumeric string. You can scan your QR code to bring up the corresponding address, or copy that address into the respective recipient field when trying to initiate the transaction. Do take note of the gas/transaction fees that apply.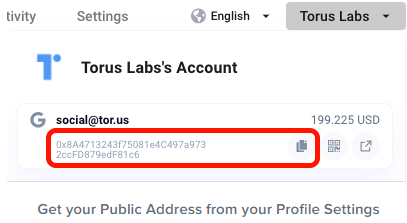 How Do I Recover My Torus Wallet Account?
When ever a user creates an account with Torus, their private key is split into multiple factors secured behind their social account, in their device, and a backup phrase sent to their email.
The user would just need any two of their factors to recover access to their account.