No hay resultados para ""
No pudimos encontrar nada que coincida con su búsqueda. Vuelva a intentarlo con un término diferente.
What is Core DAO (CORE)? How to Mine and Buy it?
According to Core DAO's official site, Coredao is the official decentralized organization developing the Satoshi Plus Ecosystem. It is building Web3 infrastructure & promoting public chains on Bitcoin's Pow.
CoreDAO(CORE) presents a groundbreaking advancement in Web 3 technology: a brand-new, independent blockchain running at the core of the internet, powered by Satoshi Plus. This protocol-driven consensus mechanism combines the best features of Proof of Work (PoW) and Delegated Proof of Stake (DPoS), ensuring maximum security, scalability, and decentralization. Additionally, the blockchain leverages the Bitcoin mining hashrate and the Ethereum Virtual Machine (EVM) to create a Turing-complete network.
What is Core DAO's mission?
CORE DAO's mission is to build the strongest and most inclusive community in Web 3.
How is Core different from Bitcoin, Ethereum, and other public chains?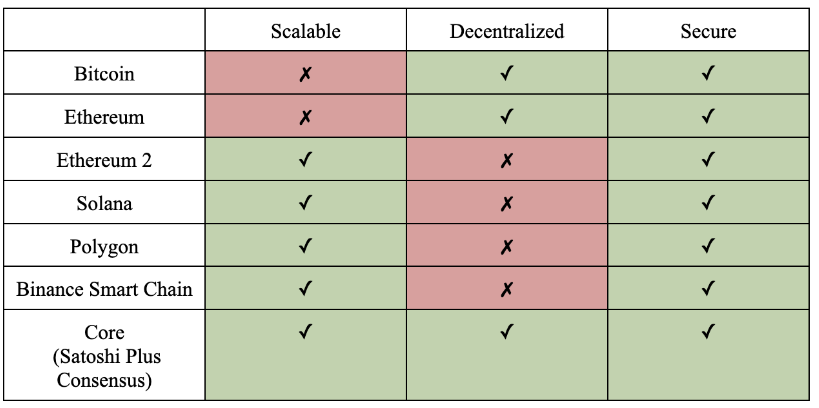 Figure 1: Comparison of related works.
Core is an evolution of the Geth codebase. Core leveraged the improvements made by the BSC team to add greater throughput and cheaper transactions by way of hard fork. Nevertheless, Core differs from BSC in many ways. One notable difference is that Core is based on Satoshi Plus Consensus, which relies on Proof of Work (PoW) alongside Delegated Proof of Stake (DPoS). With these modifications, Core is able to remain decentralized without the performance tradeoffs seen in traditional PoW consensus systems. Additionally, with our hybrid score based on both delegated Bitcoin hash power and delegated stake, Core has created a fluid market for validators and rewards that anyone can participate in.
How to Mine Core DAO?
First, you should download the Core DAO app(Satoshi Mining App), then register, login, pass the "I'm Not a Robot Verification", and start mining by instruction.
You can download the Satoshi Mining App and participate by visiting https://www.coredao.org/, or download SATOSHI MINING APP directly by visiting https://www.satoshiapp.xyz/pc/.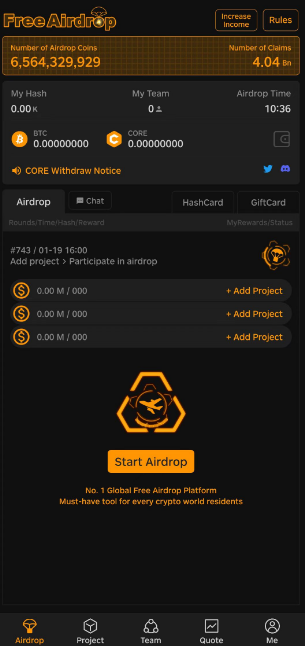 What is the Price of Core DAO (CORE)?
The live price of their token will come very soon. You can check the live price of Core DAO token price right here!
For more information about Core DAO's newlisting events, please refer toCore DAO Listing Events
Where to buy Core DAO?
You can find CoreDAO (CORE) will be listing on OKX, Huobi and MEXC Global! They will be listing CORE/USDT in their spot trading very soon!
Investing in Core DAO can seem complicated, but it is much easier when you buy Core DAO through cryptocurrency exchange. Signing up for a cryptocurrency exchange will allow you to buy, sell, and hold Core DAO — both for fiat money and other cryptocurrencies. Core DAO will be get listing on Some of the most popular cryptocurrency exchange, such as :
OKX(OKEx)
Huobi
MEXC
Poloniex
CoinW
Beware of scams! Click here to view Core DAO (CORE) price in different crypto exchanges.
How to buy CORE Token?
You can buy CoreDAO (CORE) token on crypto exchange by following the steps:
Log in to your crypto exchange account and click [Trade]. Click on [Spot].
Search "CORE" using the search bar to see the available trading pairs. Take CORE/USDT as an example.
Scroll down and go to the [Spot] box. Enter the amount of CORE you want to buy. You can choose from opening a Limit order, a Market order, or a Stop-limit order. Take Market order as an example. Click [Buy CORE] to confirm your order. You will find the purchased CORE in your Spot Wallet.
You can find a detailed guide on how to buy CORE Token on crypto exchange.
Core DAO mainnet & testnet
About Core Chain TestNet(CORE)
Network Name: Core Chain TestNet
WebSite: https://www.coredao.org
ChainID: 1115
NetworkID: 1115
Symbol: CORE
Explorer: https://scan.test.btcs.network/
RPC: https://rpc.test.btcs.network/
About Core Chain MainNet(CORE)
Network Name: Core Chain MainNet
WebSite: https://www.coredao.org
ChainID: 1116
NetworkID: 1116
Symbol: CORE
Explorer: https://scan.coredao.org
RPC: https://rpc.coredao.org
If you want to add CoreDAO chain to metamask wallet, please refer to How to Add CoreDAO Chain to Metamask Wallet
FAQ
Core DAO will list on Binance?
It's hard to say, but it depends on whether binance is willing to go online with CoreDao.
Is Core Dao legit?
Currently fraught with controversy, many opponents are calling BTCs Mining or Satoshi Chain a scam project posing as a cryptocurrency mining app. The app promises to reward users with BTC that they can later exchange for Bitcoin (BTC).
But CoreDao also has many supporters, with over 1.4 million Twitter followers and over 200,000 Discord followers.
---
Stay tuned to CoinCarp Social Media and Discuss with Us:
Twitter |Telegram |Reddit |Discord
Descargo de responsabilidad: La información que se encuentra en CoinCarp es la de los escritores citados. No representa las opiniones de CoinCarp sobre si comprar, vender o mantener cualquier inversión. Le aconsejamos que lleve a cabo su propia investigación antes de tomar cualquier decisión de inversión. Utilice la información proporcionada bajo su propia responsabilidad. Consulte la cláusula de exención de responsabilidad para obtener más información.