해당 결과 없음 ""
검색에 일치하는 항목을 찾을 수 없습니다.다른 용어로 다시 시도하십시오.
How to Transfer Crypto from One Exchange to Another?
The first thing for a beginner who steps into the crypto world is to choose one exchange and buy crypto in that exchange. Also, most of the users are using centralized exchanges. Then, after buying crypto assets after a while, for some certain reason, we may need to use another exchange. So the problem is how to transfer crypto-assets between exchanges. This article will show you how to transfer crypto from one exchange to another and something that you should notice before transferring.
Why Do People Transfer Crypto Between Exchanges?
In general, people transfer crypto from one exchange to another for the following reasons:
The legal issue, some exchanges may not be legal in a certain region. Newly cryptocurrency regulations launched in the region will affect the exchanges' operation, they may shut down in some countries or provide limited services. In this case, people may transfer crypto to another legal exchange.
The coin/token you want to buy is only listed on the particular exchange. You have to transfer part of your crypto assets to that exchange, and switch them to get the target coin/token.
For a lower trading fee. The trading fee may differ from each other. People will change exchange for a lower trading fee or for the newbie discount.
What Do I Need to Prepare Before Transferring Crypto?
Before making a withdrawal or deposits cryptocurrencies from the exchange, several things you should consider first: Network, network fee, withdrawal fee, and transaction time.
When you are making withdrawals or deposits, the exchange requires you to choose the Withdrawal Network or Deposit Network, they can be ERC20, TRC20, SOL, etc., you should make sure you select the same deposit or withdrawal network address, or your asset may be lost!
The network fee is also called miners fee, the fee paid for the blockchain miners to confirm the transaction. It varies from crypto and network.
Almost every cryptocurrency exchange will charge you a withdrawal fee. Different exchanges have different withdrawal rates. You can check the exchange official website or apps to find out the withdrawal rates.
Transaction time depends on the coin\token and network, for example, a Bitcoin transaction requires 6 confirmations and it takes almost an hour to reach your destination exchange address, however, for some cryptocurrencies, it only takes several minutes.
How to Transfer Crypto from One Exchange to Another?
To transfer your crypto to the destination exchange, you should find out the Deposit Address. Please remember to copy the right address, otherwise, you may lose your coin or token.
We will show you the procedures of how to transfer crypto from one exchange to another. Take transfer
Tether(USDT) from Huobi Global to OKEX for example:
Click OKEX app, click "Assets", "Deposit", Then find "USDT", and click, choose the "Network", we choose "USDT-Solana"(since Huobi Global also support Solana network). Copy the "Deposit Address".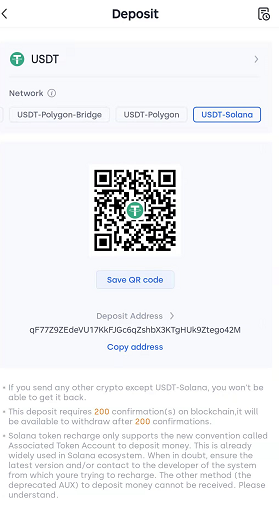 Now switch to Huobi Global app, click "Wallet", "Withdraw", choose the coin you want to withdraw, now we choose USDT, then paste the "Withdrawal address"(The "Deposit Address" copied from OKEX), choose the withdrawal network, same as the OKEX, we choose "SOL", input the Withdrawal amount. Click "Withdraw"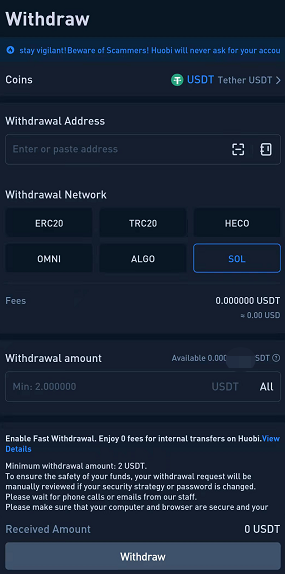 Comfirm Withdrawal information, you will receive the verification code. Input the code, and click "Confirm ".(2FA or email verification)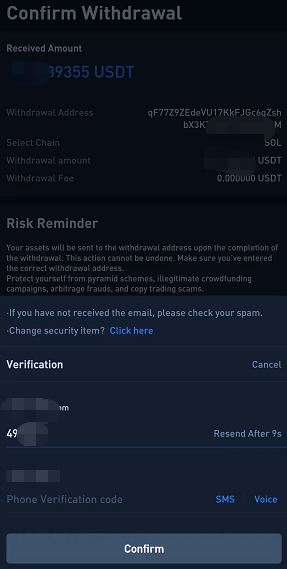 Once you complete all the procedures above, your coins will be moved to OKEX from Huobi Global.
You can check the results on OKEX after several minutes.
What Is the Cheapest Way to Transfer Crypto Between Exchanges?
To transfer crypto, exchanges will charge you the withdrawal fee, then you need to pay the network fee. In this case, you should consider finding a cheaper network to make the transfer, however, the network should be supported by both exchanges and crypto. If not, you may swift to the altcoin that supports the network. However, you should take trading fee into account if you want to swift to the altcoin. The prices of crypto are not stable, so if you transfer the crypto directly, sometimes you have to wait for hours, the assets cannot be traded until they are confirmed by the destinate exchange. In this case, you may suffer value loss. So you may swift the crypto you want to transfer into steable coin and then make the transfer.
Note:
Although security measures have been implemented by cryptocurrency exchanges, it cannot fully guarantee the security of users' funds. If you have a large number of cryptocurrencies and don't plan on trading them then you can choose to transfer them from the exchange to your wallet to reduce risk.
면책 조항: CoinCarp에서 찾은 정보는 인용된 작가의 정보입니다. 투자를 구매, 판매 또는 보유할지 여부에 대한 CoinCarp의 의견을 나타내지 않습니다. 투자 결정을 내리기 전에 자체 조사를 수행하는 것이 좋습니다. 제공된 정보를 자신의 책임 하에 사용하십시오. 자세한 내용은 고지 사항을 참조하십시오.