No results for ""
We couldn't find anything matching your search.Try again with a different term.
How To Get NFT and Digitally Signed Book from Vitalik?
The co-founder of Ethereum, Vitalik Buterin will release his new book, Proof of Stake, on Sep. 27, 2022. All of the preorders will receive a free, signed digital copy. To get the digital book in its NFT format, you can order a physical copy or make a donation in any amount of ETH. This article will show you how to get the NFT format of a digitally signed book from Vitalik via donation.
What Is Vitalik Buterin's New Book?
The name of new book written by Vitalik Buterin is called Proof-of-Stake, it is about the details of the creation of the Ethereum network and the philosophy of blockchain technology. The book will talk about the making of Ethereum over the years. It is also a compilation of the many writings that Buterin made over the years, it contains essays such as "On Free Speech,""Prediction Markets: Tales from the Election,""Crypto Cities," and many more. It will be released in both physical and digital forms and all proceeds from Buterin's book will support open-source public goods through Gitcoin Grants, a platform where users are paid to work on open-source software.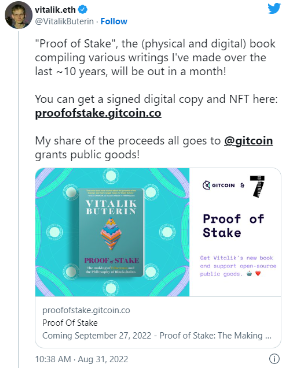 How to Get the Digitally Signed Book Proof-of-Stake for Free?
If you order a physical copy of Proof-of-Stake, or make a pledge to donate (any amount), you can claim the signed, digital copy for free. Now we will briefly show you how to mint the NFT book step by step(via donation)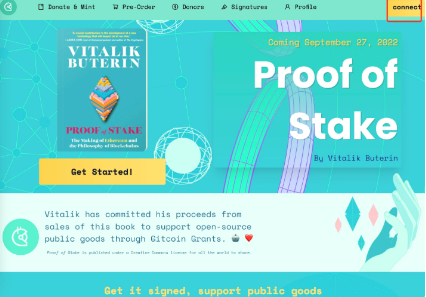 Step 3 Click "Get Started!"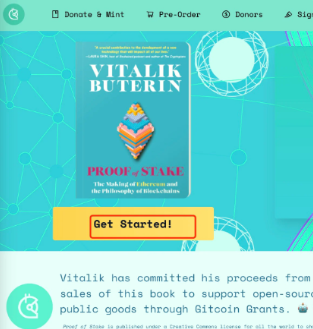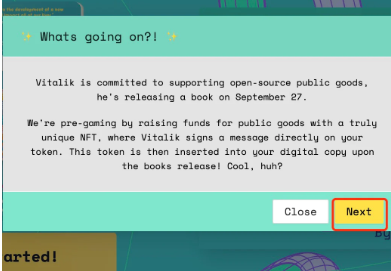 Step 5 Tick the first option, "Donate & Mint an NFT" then click "Open".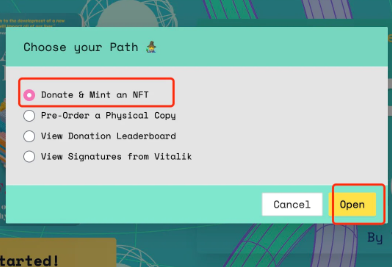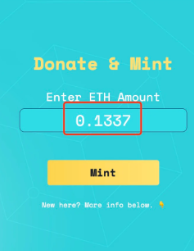 Step 7 Confirm the transfer on your wallet and wait to mint, after a while, you will get the NFT book successfully.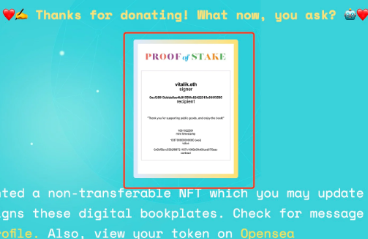 Where Can I Buy Proof-of-Stake Written by Vitalik Buterin?
The physical copy of Proof-of-Stake now can be preordered from your local bookstore or from online retailers, such as
Stay tuned to CoinCarp Social Media and Discuss with Us:
Disclaimer: Information found on CoinCarp is those of writers quoted. It does not represent the opinions of CoinCarp on whether to buy, sell, or hold any investments. You are advised to conduct your own research before making any investment decisions. Use provided information at your own risk. See Disclaimer for more information.