No results for ""
We couldn't find anything matching your search.Try again with a different term.
Where to Stake NEAR Protocol?
With the news that NEAR Protocol has raised $350 million in a funding round led by Tiger Global, people cannot wait to search for a new opportunity on NEAR Protocol. Some may choose to stake NEAR to earn a profit. The guide will try to tell you everything about NEAR Staking, including where and how to stake NEAR protocol.
What Is NEAR Protocol?
NEAR is an open-source and decentralized development platform. It is a sharded, proof-of-stake, layer-one blockchain that is simple to use, secure and scalable. NEAR is the native token of the NEAR Protocol. It can be used to store data on the platform as well as for transaction fees. NEAR owners may also use tokens for staking. This allows them to become transaction validators and contribute to network consensus.
How Much Can I Earn When Staking NEAR?
The amount of staking rewards one can earn is proportionate to the total amount of tokens staked to the Network. For example, if there are 1000 total tokens staked and you have staked 100 of them, you can earn 10% of the total rewards which are distributed to the network. If there are 2000 total tokens staked and you have staked 100 of them, you'll only earn 5% of the total rewards.
Today, NEAR staking pools are holding approximately 200 million NEAR tokens, so if you Stake 200 tokens (representing a share of 0.0001% of the total staked) you could receive ~45 newly generated tokens over one year, or 0.0001% of the ~45 million tokens minted by the network as inflationary rewards.
However, as is common with Proof of Stake Networks, as the network matures and more people become familiar with it, the total amount of staked tokens will increase. This means that while today's Staking rewards are split between a pool of 200 million tokens, in the coming weeks, months, or years, that total amount of tokens staked could be as much as 600 or 700 million or even the full 1 billion NEAR tokens in existence. Of course, there is no way to tell what the future will bring so we can only provide these calculations to explain how the protocol works at the technical level and can not guarantee that it will not change in the future. In theory, if 800 million tokens were staked instead of 200 million, you would receive ¼ of the number of rewards as you would today with only 200 million tokens staked.
Where Can I Stake NEAR Coin?
According to the NEAR official guidebook, the wallets that support Stake NEAR Coin are the official NEAR wallet and Moonlet's Wallet. Also, you can use Dokia Capital Staking application to stake NEAR Coin for passive reward.
How to Stake NEAR with NEAR Wallet?
Using NEAR Wallet to stake NEAR is easy, the steps are as followed:
Step 1: If you are the first time using NEAR official Wallet, you should create the account first. Go to the NEAR Wallet page, and click "Create an account". However, if are already have the NEAR Wallet account and wish to import, you can choose "Import Existing Account".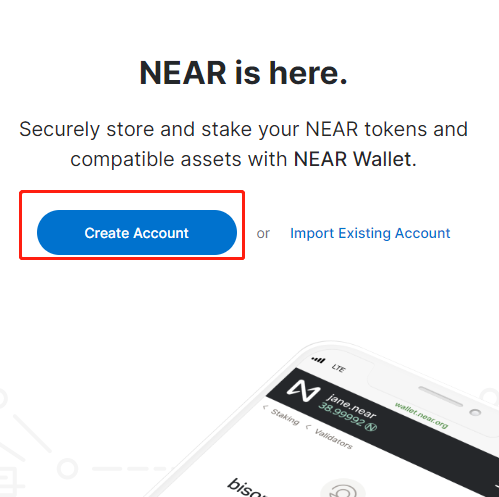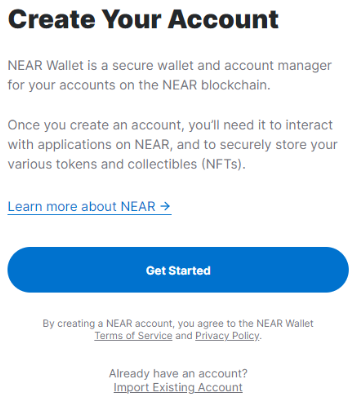 Step 2: When choosing "Create an account", please enter a "Reserve Account ID" on the application page.
Step 3: Then NEAR Official Wallet will show you 12-word key phrase, you'd better use a pen and paper to write them down and keep them in a safe place. The application will need you to verify some of the phrases, when it is done, your wallet will be created.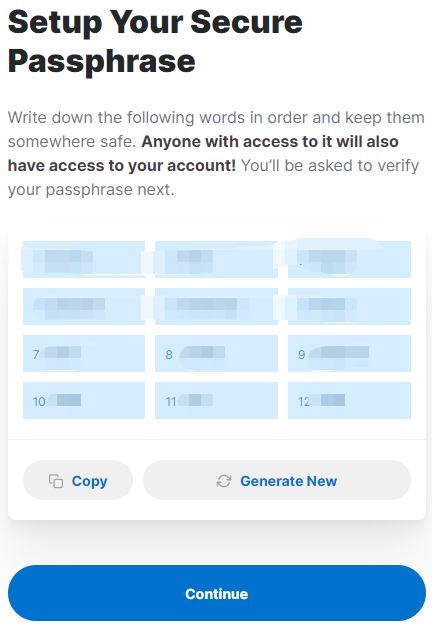 Step 4: Buy and Transfer NEAR to the wallet. First, copy the public address from NEAR Wallet. Then go to the exchange (for example, Binance exchange), buy some NEAR. After you obtain NEAR coin successfully, click "Withdraw " and paste your NEAR Wallet address to transfer the NEAR coin. After a few minutes, you will see the balance on your NEAR Wallet.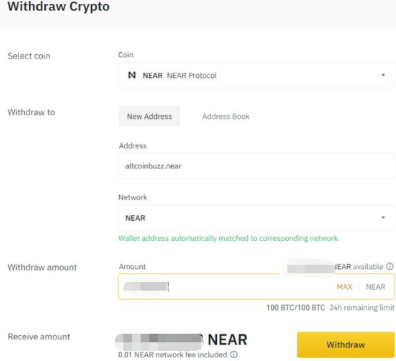 Step 5: Click "Stake My Tokens", then selected the Validator, enter the number of NEAR tokens that they wish to stake. (Note: Do not stake all your NEAR tokens, since you need some tokens in the wallet to pay for a transfer fee. )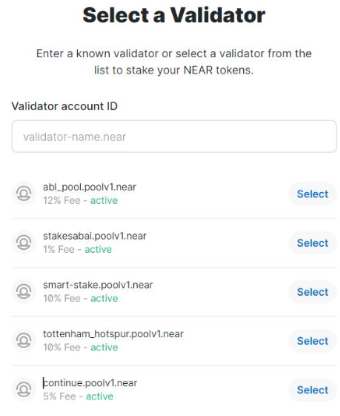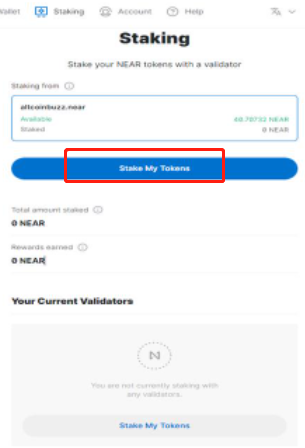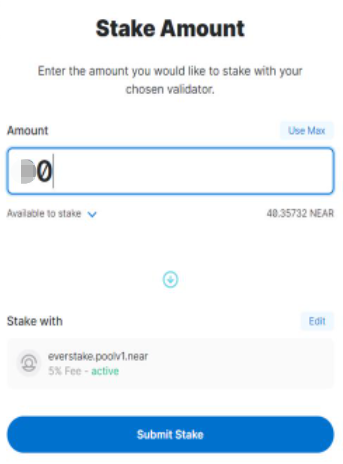 Also, You will notice each validator has a "Pool Fees" amount listed. This % is the amount of fees the Validator will keep to manage their operation. For example, if 100 token rewards are created, 10% of them will be kept by the validator and 90% will go to the token holders that staked to that Validator. That said, Zero fees are not always good. Being a Validator requires time from qualified professionals operating high-quality infrastructure – which is expensive to maintain. Also, Validators can change their fees at any time, so make sure to keep an eye on the fees in your pools and join Validator's community chats or mailing lists for updates.
Step 6: You are all set. You can check your staked details on the Staking tab.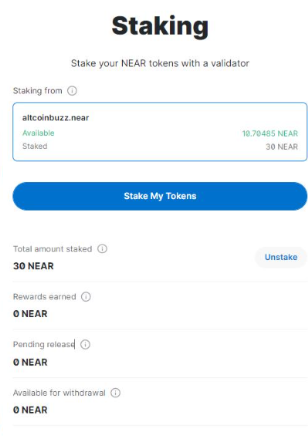 How to Stake NEAR with Moonlet Wallet?
Moonlet Wallet is another wallet that supports NEAR staking. To stake NEAR with Moonlet Wallet is similar to NEAR official Walle, the procedure are as followed: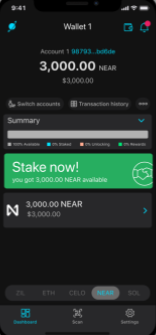 Step 3: Buy and Transfer NEAR to the wallet. Similar to NEAR Wallet.
Step 4: Select the nodes where you want to stake your $NEAR.
Step 5: Confirm how many $NEAR you want to stake.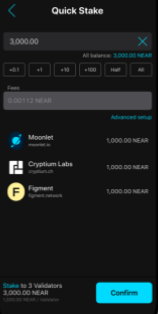 Step 6: Sign the transaction and wait to be processed.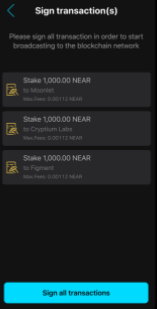 Dokia Capital is a platform that supports NEAR staking. Once you've delegated, you will automatically start earning staking rewards. If you want to stake NEAR on Dokia Capital, click NEAR network, then Click Delegate Now, choose a Validator, and followed the introduction.