No results for ""
We couldn't find anything matching your search.Try again with a different term.
Tranchess Price (CHESS)
24h
24h Low / High
7d Low / High
30d Low / High
Links:
Website, Explorers, Whitepaper

Tranchess
CHESS
Tranchess (CHESS) Chart
Tranchess (CHESS) Return On Investment(ROI)
Tranchess (CHESS) Price Now
Tranchess price today is $0.125 with a 24-hour trading volume of $864,306. CHESS price is up 1.96% in the last 24 hours. It has a circulating supply of 124.49Mil CHESS tokens and a max supply of 300Mil.
In order to search for real-time and historical information about Tranchess (CHESS) blockchain, including data related to blocks, transactions, addresses, and more, you may use Tranchess (CHESS) block explorers. Here are some of the most popular and useful Tranchess (CHESS) blockchain explorers out there:
What Is Tranchess(CHESS)?
Tranchess is a yield enhancing asset tracker with varied risk-return solutions. Inspired by tranche funds' ability to satisfy users' varying risk appetites, Tranchess aims to provide a different risk/return matrix out of a single main fund that tracks a specific underlying asset (e.g. BTC). The main tranche can be split into two sub-tranches with their own distinct risk-return profile.
Tranchess Protocol is not just a standalone asset management ecosystem, but encompasses many features one can require in the DeFi space. It is a one-stop centre for those that want to enjoy a full suite of DeFi features such as single-asset yield farming, borrowing & lending, trading, etc.
CHESS Token Allocation
Chess is the sole governance token of Tranchess Protocol, currently issued on BSC but following the ERC-20 standard. It's widely used in the Tranchess ecosystem for voting, fee rebate, etc.
CHESS tokens will be released over 4 years with a decaying schedule. There will be a total of 300 million CHESS tokens, with the distribution as follows: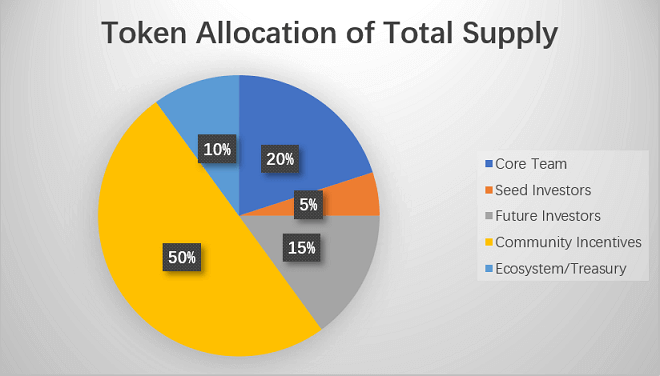 20% of the token supply will be allocated to the Core Team with a vesting schedule
5% of the token supply will be for Seed Investors with a vesting schedule
15% of the token supply will be reserved for future investors in subsequent funding rounds
50% of the token supply will be allocated for liquidity mining of CHESS tokens.
10% of token supply is reserved for the ecosystem/treasury of Tranchess – including but not limited to partnerships, 3rd party services, listing fees.
Where Can You Buy Tranchess(CHESS)?
Investing in Tranchess can seem complicated, but it is much easier when you buy Tranchess through cryptocurrency exchange. Signing up for a cryptocurrency exchange will allow you to buy, sell, and hold Tranchess — both for fiat money and other cryptocurrencies. Some of the most popular Tranchess cryptocurrency exchange are:
Tranchess (CHESS) Community
What is Tranchess (CHESS) Contracts address?
Tranchess FAQ
What is the price of Tranchess (CHESS) token?
The current Tranchess usd price is $0.125. We update the Tranchess USD price in real time. Get live prices of Tranchess on different cryptocurrency exchanges around the world on Coincarp.
Is Tranchess (CHESS) token a good investment?
It depends on your personal risk tolerance and investment goals. Tranchess is a cryptocurrency that is highly volatile and therefore may not be suitable for all investors. Before investing, please do your own research about cryptocurrencies, crypto wallets, cryptocurrency exchanges, and smart contracts, and it is crucial to understand the risks and potential rewards of investing in cryptocurrencies..
If you decide to get involved in Tranchess investing, you will also need to understand the Tranchess project's white paper, team background, tokenomics, and the overall market environment.
The main ways to get involved in Tranchess investing are by participating in Spot, Perpetual, ETF/Leveraged trading or pledging to earn interest. Perpetual and ETF/Leveraged trading are very risky and are not recommended for non-professionals.
Where can I buy Tranchess (CHESS) token token?
You can buy Tranchess from a cryptocurrency exchange (CEX or DEX) or some cryptocurrency wallets. Usually we choose cryptocurrency exchanges to buy, most exchanges require you to set up an account and verify your identity before buying Tranchess. Cryptocurrency exchanges that currently support Tranchess trading include:

If there is any error, please feedback to us, our email is hello@coincarp.com. Please be aware that buying and selling Tranchess involves high risks.You should always do your own research and make sure you understand the risks associated with Tranchess trading before you begin.
How to short Tranchess (CHESS) token?
The easiest way to short Tranchess is through margin trading, usually with Perpetual contracts, Futures contracts, ETF/Leveraged. Only a few cryptocurrency trading platforms allows short selling due to the considerable risk involved in this type of trading.
To start shorting Tranchess, open a margin account, provide some collateral for your short position, borrow some coins from the trading platform, and start short selling. Keep in mind that shorting Tranchess or any other cryptocurrency is high-risk. Exchanges that currently support shorting Tranchess are:

What will Tranchess (CHESS) token be worth in 5 years?
It is impossible to predict what Tranchess will be worth in five years. The cryptocurrency market is highly volatile and can be affected by a variety of factors, such as US dollar policy, government regulations, technological progress, market sentiment, Tranchess's circulating supply and the development of project ecology. Therefore, it is impossible to accurately predict the price of Tranchess 5 years from now.
Any data,text or other content on this page is provided as general market information and not as investment advice.

CHESS Price Statistics

Tranchess Price Today

Tranchess Price

$0.125

Price Change24h

$0.002402 1.96%

24h Low / 24h High

$0.1208 / $0.1262

Trading Volume 24h

$864,306

Volume/Market cap (24h)

5.55%

Market Dominance

--

Market Rank

#391

Tranchess Market Cap

Market Cap

$15,560,895

Fully Diluted Market Cap

$37,500,000

Tranchess Price History

7d Low / 7d High

$0.1208 / $0.1385

30d Low / 30d High

$0.1117 / $0.1385

90d Low / 90d High

$0.1117 / $0.1735

52 Week Low / 52 Week High

$0.1117 / $0.4066

All Time High

$8.15

All Time Low

$0.1117
Trending Coins and Tokens