No results for ""
We couldn't find anything matching your search.Try again with a different term.
What Are the Best 10 NFT Tokens?
Non-fungible tokens (NFTs) have exploded in 2021, with cryptocurrency enthusiasts, artists, investors rush to the burgeoning market. As a result, more and more investors start to pay attention to the tokens that are related to NFT. Most of them try to invest in the NFT token and take optimistic on the development of NFT projects. This article will list 10 well-known NFT tokens to guide investors looking to buy NFT tokens.
1.SAND(The Sandbox)
The Sandbox is a virtual world where players can build, own, and monetize their gaming experiences on the Ethereum blockchain using the platform's utility token SAND. Players can create digital assets in the form of Non-Fungible Tokens (NFTs), upload them to the marketplace, and integrate them into games with Game Maker.
SAND is the utility token used throughout The Sandbox ecosystem as the basis of transactions and interactions. It is an ERC-20 utility token built on the Ethereum blockchain. It will be used across the ecosystem by gamers, developers, and publishers, allowing Creators and Players to exchange ASSETS and Games and build a user-based platform of rewards while developing an ecosystem where Creators and Players will share various truly unique gaming experiences. There is a finite supply of 3,000,000,000 SAND.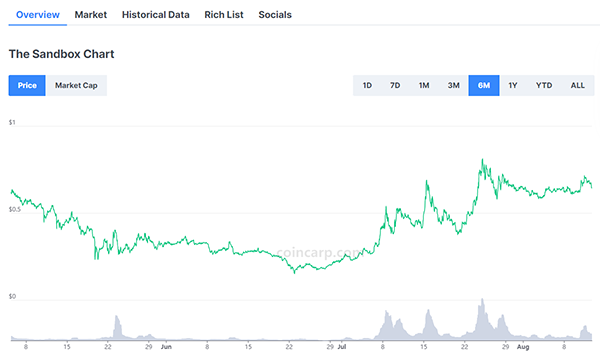 2.MANA(Decentraland)
An ERC-20 token that serves as Decentraland's currency. It is identical and lacks unique properties, defined by the MANAtoken contract. Denizens of Decentraland can create scenes and experiences for other users, like concerts, art exhibits, casinos. Mana can be used in Decentraland. For example, denizens can gamble in MANA, with croupiers who are paid in MANA to show up for work. All virtual space in Decentraland is composed of individual parcels of LAND that you may purchase with MANA in Decentraland's Marketplace. The supply of MANA is fixed, and MANA is burned after it is used to purchase LAND.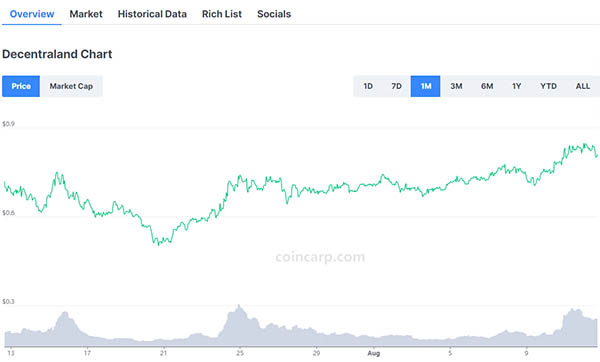 3.RARI(Rarible)
RARI is the Governance Token launched by Rarible, an open-source, non-custodial NFT trading platform for users to mint, sell and create collectibles, in July 2020. It can be earned by active participation on the platform. 75,000 tokens are issued every week, with 50% reserved for buyers, and 50% for sellers. There is a finite supply of 25,000,000. Moreover, holders of RARI can submit and vote on proposals.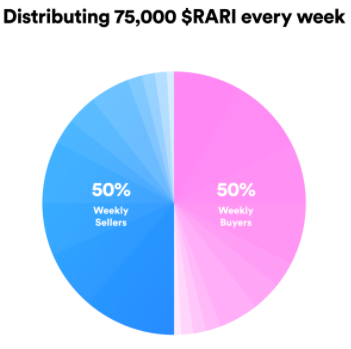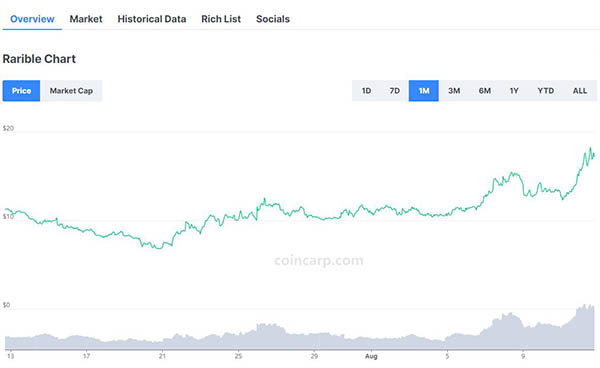 4.Theta (THETA)
Theta was founded in 2018 and has generated investment from Samsung Electronics Co Ltd's venture arm Samsung NEXT, as well as Sony Corp's Sony Innovation Fund.
The blockchain's main business concept is to decentralize video streaming, data delivery, and edge computing with the aim of making it more cost-effective. Since its inception, it has been advised by Steven Chen, the co-founder of Google Inc's, Youtube, and Justin Kan, co-founder of Twitch.
It is a decentralized video delivery network, powered by users and an innovative new blockchain. The Theta network also allows developers to build decentralized applications on top of its blockchain. Examples include royalty distribution applications and crowdfunding mechanisms. Theta network users can download an official Theta Wallet app to hold or stake their THETA. The token is mainly for voting on changes to the protocol. It also has built a micropayment system for video streaming purposes that allows content viewers and creators to send and receive THETA via the official wallet app.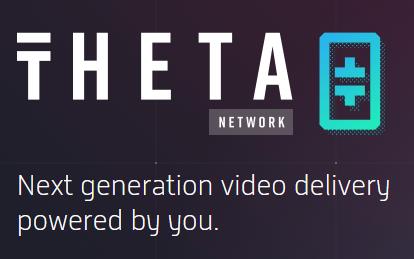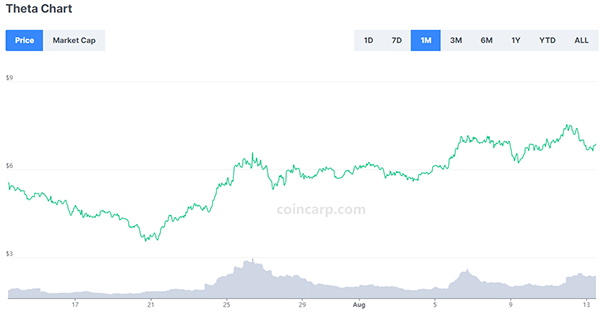 5.Chiliz (CHZ)
Chiliz is a blockchain-backed product and service for mainstream consumers, it provides sports and entertainment entities tools that based on blockchain to help them engage and monetize their audiences. With its Fans Engagement app, sports fans can participate to vote in the club–focused surveys and polls. CHZ token is the native token of Chiliz, used for powering the world's first scalable fan engagement and rewards app, buy and trade branded Fan Tokens, vote in club-focused surveys and polls. Fan Token holders also get exclusive rewards from their teams and enjoy incredible experiences.
Fan Tokens bought on Socios.com allow users to influence their teams via popular vote and become eligible for engagement-based team rewards and recognition. All Fan Tokens are minted using the Chiliz blockchain & all on-platform voting is executed as a series of smart contracts which run through the Chiliz blockchain.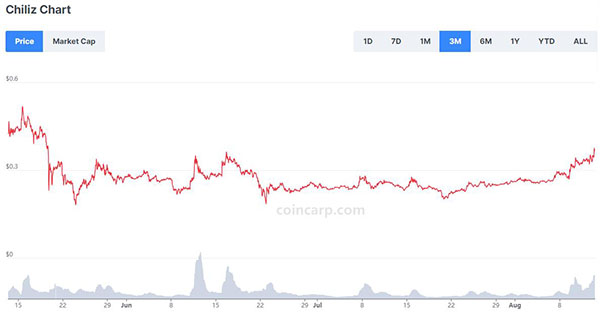 6.Tezos (XTZ)
Tezos is an open-source platform for assets and applications that can evolve by upgrading itself. Stakeholders govern upgrades to the core protocol, including upgrades to the amendment process itself.
Based on smart contracts, Tezos performs more or less the same functions as Ethereum. However, it is more advanced – making it scalable if the need arises without resorting to a hard fork. Tezos has received attention as a blockchain platform for Non-Fungible Tokens (NFTs) due to its Proof of Stake energy-efficient algorithm which became a popular topic amid concerns of the energy requirements of alternative Proof of Work platforms. OneOf, a music NFT platform backed by Quincy Jones, as well as Red Bull Racing and McLaren Racing have all selected Tezos to build their NFT platforms on.
Its native token XTZ enables users to vote on proposals for protocol upgrades and settle fees on the platform. In Tezos' LPoS model, network nodes that validate blocks and add them to the blockchain —known as bakers— are selected to perform those actions proportionally to their share of rolls of 8,000 XTZ that they put up for stake, and a baker receives staking rewards in the form of newly minted XTZ after successfully validating a block and adding it to the blockchain. Holders of XTZ can delegate their XTZ to bakers to share in the staking rewards that bakers receive. Holders of XTZ who do not stake or delegate their XTZ risk suffering a loss in value due to inflation as new XTZ are created and distributed to bakers for validating new blocks and adding them to the blockchain. The current annual inflation rate is 3.6%. As of January 2021, nearly 80% of all XTZ in circulation were either directly staked by bakers or delegated to bakers for staking.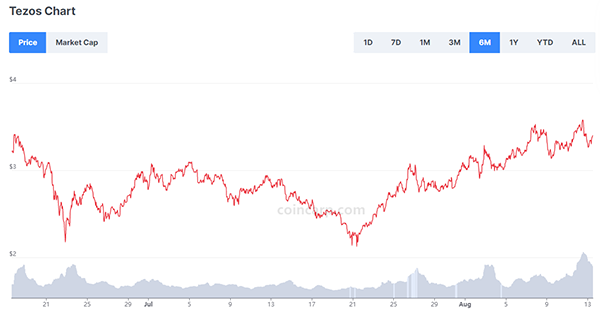 7.Enjin Coin (ENJ)
The Enjin platform is a robust, flexible, powerful suite of tools and services that allows you to create and manage blockchain games without building and maintaining the infrastructure associated with blockchain games. Enjin Coin (ENJ) is the native token based on Ethereum, which is used to directly back the value of next-gen NFTs. It also allows game producers to use the Ethereum blockchain to tokenize in-game assets. lENJ can be bought and sold for fiat currency or other digital currencies. The total supply of Enjin Coin (ENJ) is 1billion.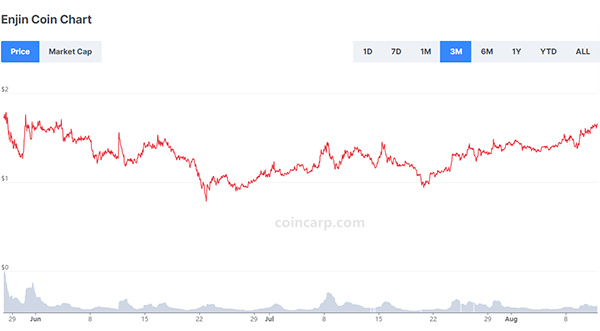 8.Flow (FLOW)
Flow is a fast, decentralized, and developer-friendly blockchain, designed as the foundation for a new generation of games, apps, and the digital assets that power them. Flow is the only layer-one blockchain originally created by a team that has consistently delivered great consumer blockchain experiences: CryptoKitties, Dapper Wallet, NBA Top Shot. Flow is a blockchain designed from the ground up for mainstream adoption and is the only blockchain that builds usability improvements into the protocol layer. Top developers and some of the world's largest brands are already building on Flow, enabling completely new experiences with top-tier content.
Flow has a rich ecosystem comprised of top entertainment brands, development studios, and venture-backed startups. Flow ecosystem partners include global IP brands like Warner Music, Ubisoft, NBA and UFC; leading game developers, including Animoca Brands, Sumo Digital and nWay; leaders in crypto, such as Circle and Binance; as well as several noteworthy projects among the next generation of high-growth startups, including Opensea. The total supply of Flow (FLOW) is 1.25billion.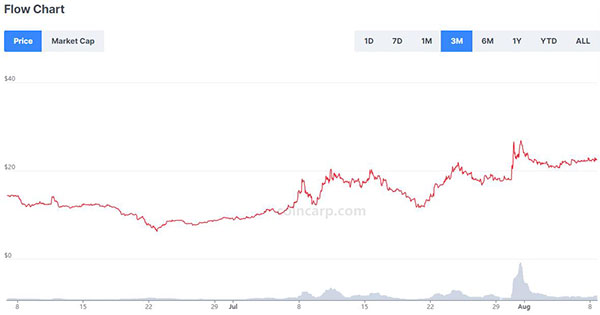 9.BakerySwap (BAKE)
BakerySwap is where decentralized finance(DEX) merges with NFTs in the Binance Smart Chain. Users can earn BAKE rewards from trading fees by providing liquidity. Also, it can be used to vote in protocol governance proposals. Cross-platform in other Binance Smart Chain (BSC) decentralized applications (dApps) also support BAKE. The total supply of BAKE tokens is just over 731.7 million, being entered into circulation in stages. All NFTs in the BakerySwap supermarket are purchased in BAKE tokens.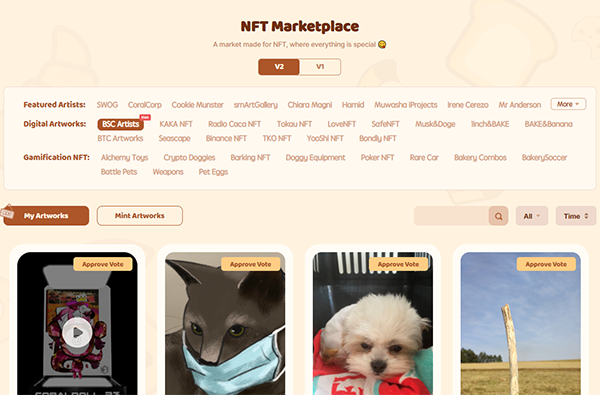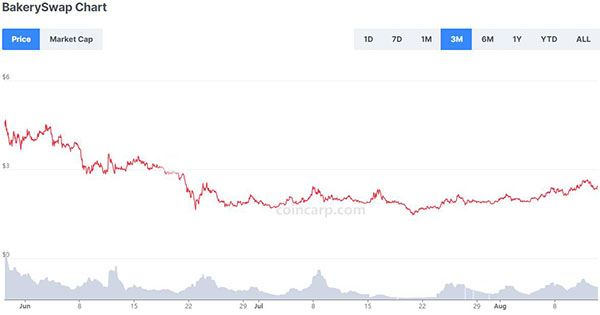 10.SuperFarm (SUPER)
SuperFarm is a platform that provides a multi-chain DeFi and NFT infrastructure environment. The project is focused on the building of NFT Marketplace, streamlined NFT generation tools, NFT farming, and gaming. SUPER is SuperFarm's native utility token and is used for governance, fees & purchases, staking rewards, NFT Farming. The total supply of SUPER is 1billion.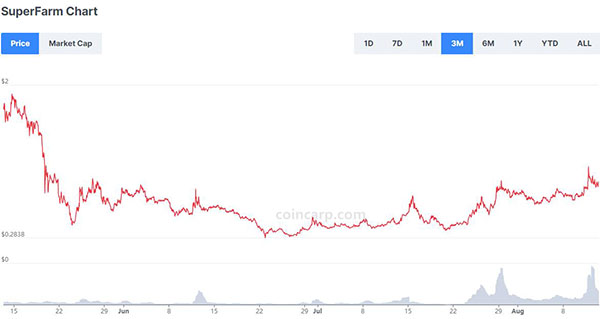 Disclaimer: Information found on CoinCarp is those of writers quoted. It does not represent the opinions of CoinCarp on whether to buy, sell, or hold any investments. You are advised to conduct your own research before making any investment decisions. Use provided information at your own risk. See Disclaimer for more information.