No results for ""
We couldn't find anything matching your search.Try again with a different term.
Gate.io 10th Anniversary Special: Use Earn Products & Win Extra $3000
gate.io
In celebration of Gate.io's 10th Anniversary, we started a series of bonus activities on the Gate Earn platform to thank all users for their focus on Gate.io. We welcome you all to join these activities to win extra bonuses!
Duration: May 25 - June 5, 2023
Complete only two steps to earn interest & win mega bonuses:
Step 1: Fill in the registration form
Step 2: Complete one or more tasks:1.Hodl & Earn2.Lend & Earn3.Use Auto-Investment4.Use Dual Investment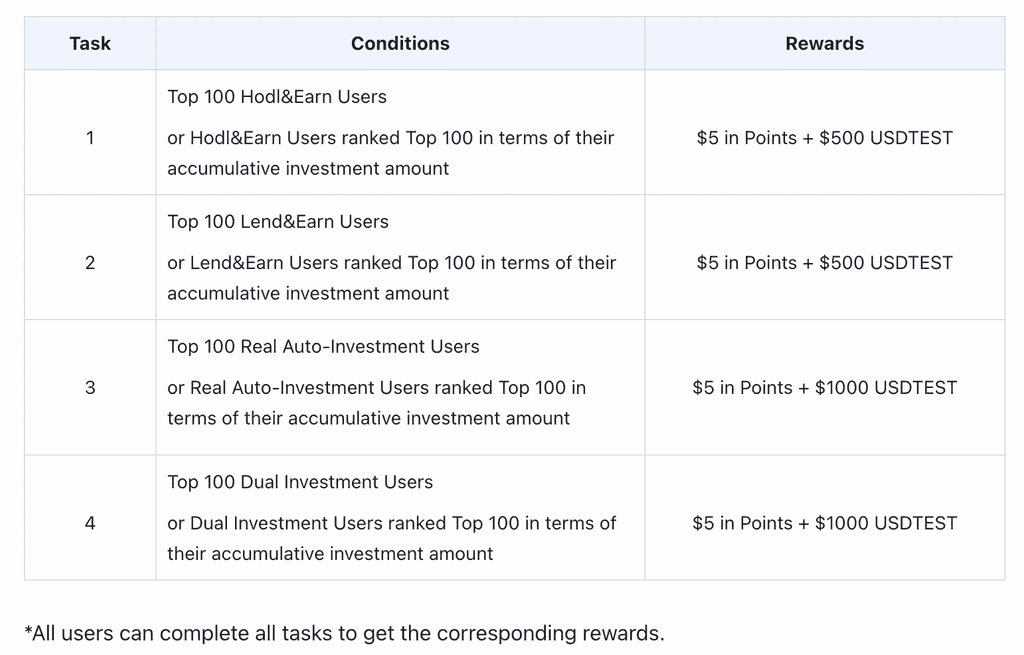 Notes:
1.Only one entry per person will be permitted (KYC2 must be completed). The Sub-Accounts and Master Account will be treated as the same account in the competition.2.During the activity, we consider that participants whose net investment amount is ≤ 0 in Task 2 will give up joining this task. In Task 2, net investment amount = accumulative investment during the activity - accumulative amount redeemed during the activity.3.In Task 3, Real Auto-Investment users mean users whose plans have been successfully executed during the activity.4.Hodl & Earn principal and interest will be released after the product expires. Please view them in "Wallet" - "Billing Details".5.Rewards will be issued in the form of Points and USDTEST (both are valid for 7 days) and will be distributed to the winners' accounts within 7 working days after the activity ends. Winners can view them in "Wallet" - "Billing Details".6.To preserve the interests of all participants and maintain fairness, we strictly prohibit cheating in the activity. Cheating will result in disqualification.7.Risk Warning: Please note that the virtual currency market is volatile and losses may occur in different situations, so you are strongly recommended to understand all the related information and be vigilant in your investment actions.8.Gate.io reserves all rights to the final interpretation of the activity.
Gateway to CryptoTrade over 1,400 cryptocurrencies safely, quickly and easily on Gate.io

Sign up to enter the crypto gateway and get 40% commission from referralsDownload iOS/Android App right now.

Reach out to us!Twitter: https://twitter.com/gate_ioGateVIP Twitter:https://twitter.com/Gateio_InstTelegram: https://t.me/gate_zhAPI Telegram: https://t.me/gateioapiInstagram: https://www.instagram.com/gateioglobalMedium: https://gateio.medium.com/Podcast: https://gateio.buzzsprout.com/?ch=buzzs

Gate.io TeamMay 25th, 2022
Read the original article at gate-io
Trending Coins and Tokens