No results for ""
We couldn't find anything matching your search.Try again with a different term.
Five Metaverse Investing Crypto Coins/Tokens You should Know About.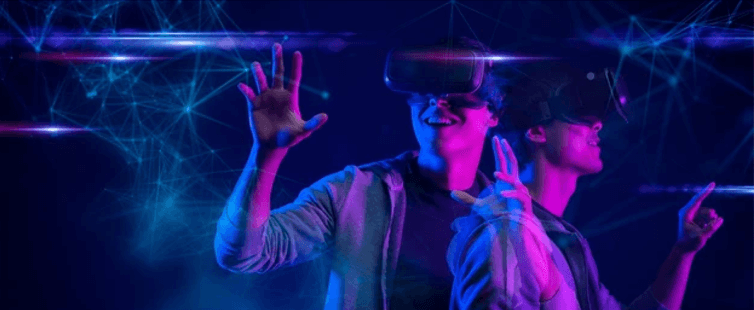 On October 29, Facebook CEO Mark Zuckerberg has officially rebranded Facebook to become "Meta". This incident immediately ignited the entire Metaverse ecology. Facebook describes Metaverse is a set of virtual spaces where you can create and explore with other people who aren't in the same physical space as you."
---
What is Metaverse Crypto Coins?
Metaverse refers to a virtual space that is shared by different worlds, created by the combination of augmented reality, virtually-enhanced physical reality, and the Internet. Metaverse can be seen as the combination of the contributions of information revolution (5G/6G), web3.0, AI, VR, AR, MR, and game engines, which make the possibility of creating the virtual world that is parallel to the traditional physical reality. It contains the technology of blockchain and the digital financial model, such as DeFi, IPFS, NFT, and other digital financial achievements. Learn more about What is Metaverse?
---
Top 10 Metaverse Investing Crypto Coins By Trading Volume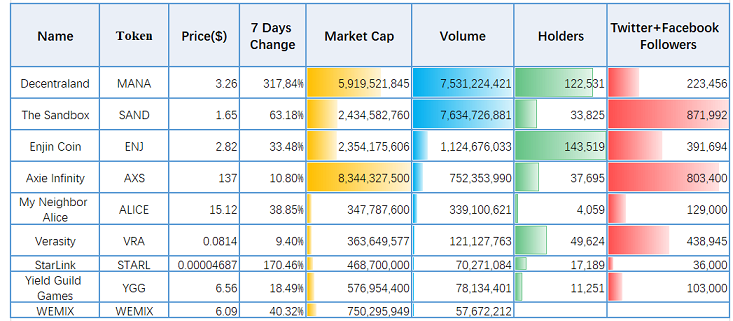 Data: Nov. 2, 2021
(Source: CoinCarp.com)
---
What are the Top 4 Metaverse Coin/Token For Investing?
Facebook (now Meta) CEO Mark Zuckerberg emphasized that the need for the work and the potential success of many parties, not just Facebook, sounds strangely similar to crypto and DeFi's community building rhetoric. Moreover, he emphasized very crypto-forward values like interoperability, the ability to bring your digital goods from one app to another.
Facebook's rebranded has attracted widespread attention to Metaverse in the past week. According to our statistics in the above table, we have selected Four Metaverse project that are most worthy of your attention.
(Keep in mind that cryptocurrencies are volatile, and speculation is a large reason why most people buy crypto. )
---
Decentraland (MANA) — Collectibles & NFTs & Play-to-Earn Game
MANA Holders: 122,531
Decentraland, the leading Metaverse project, is well-known on this week's list and has received widespread attention. It is a distributed shared virtual platform built on Ethereum. LAND can be purchased with MANA, the official cryptocurrency of Decentraland. MANA can be bought and traded on Coinbase and other cryptocurrency trading apps. As of Nov 2th, 2021, one MANA was worth $3.26. As of Nov 2021, the cheapest parcel of LAND in Decentraland sold for 3,750 MANA, which equates to approximately $12,225 USD.
The Sandbox (SAND) — Collectibles & NFTs & Play-to-Earn Game
SAND Holders: 33,825
The Sandbox is a community-driven UGC platform, where users can acquire their own digital land and ownership of creative content. Their works can be traded freely, thus truly becoming a part of this Metaverse created entirely by users. All elements in the metaverse are self-driven by the community. SAND is an ERC-20 utility token built on the Ethereum blockchain that serves as the basis for transactions within The Sandbox and an essential part of The Sandbox platform and we are working on establishing key mechanics that makes it intrinsically tied to The Sandbox platform and its value.
The Sandbox makes fix a big problems about locked funds, which made traditional game users' funds still locked in the game or even lose it until you replay the game.
The Sandbox gives players a variety of options for accumulating value and transferring it to other games or altogether outside of gaming ecosystem. The game's creators used NFT technology to make it easy for players to keep track of their creations. NFTs are cryptocurrency tokens based on the blockchain that may be used to represent in-game assets. They are both verifiable and transferrable on the blockchain.
Enjin Coin (ENJ) — Collectibles & NFTs & Media Game
ENJ Holders: 143,519
Founded in 2009, Enjin was a company that provided website creation and hosting services for game players in the early days. In 2017, it entered the NFT field and launched the first NFT creation platform. The token ENJ is used as the raw material for the game props NFT. It can be bought and sold on the exchange, and it can also be used to make weapons, props, digital art and other items you can imagine.
The game world established by Enjin allows gamers to use specific blockchain assets in each game of the game multiverse. At present, in order to better improve the game performance and user experience, Enjin has created Efinity, which is a scalable cross-chain network running on the Polkadot parachain, helping the creation, use and transaction of NFTs become easier and faster , Thereby increasing the transaction volume and usage of NFT, and any NFT on any chain can be transferred to Efinity.
Enjin Coin was first made available for purchase during a presale event in September 2017 in which 400 million ENJ was sold for a total of 38,800 Ether (ETH), worth $12 million at the time, with another 100 million ENJ given away as bonuses. In total, the presale sold and gave away 50% of the total supply. An initial coin offering was held in October 2017, with 300 million ENJ — 30% of the total supply — available for sale.
Axie Infinity (AXS) — Collectibles & NFTs & Play-to-Earn Game
AXS Holders: 37,695
Axie Infinity is a play to earn game developed by Vietnamese studio Sky Mavis, which has attracted more than 1.5 million independent players worldwide every day. Axie Infinity is a game about collecting and raising fantasy creatures named Axie. In addition to collecting and upgrading, you can also make Axies fight in the arena. The project stores the ownership information of each Axie and its unique genetic data on the chain, and in order to meet the low latency requirements of the game, the media data is stored in the central server off the chain.
Axie Infinity tokens (AXS) can be used in-game in the Axie universe to breed and trade Axies and generate more of these tokens through trade and gameplay. Moreover, the finite supply of AXS makes it a scarce asset and so potentially a good store of value in the long term as the token won't be depreciated by uncapped inflation.
Disclaimer: Information found on CoinCarp is those of writers quoted. It does not represent the opinions of CoinCarp on whether to buy, sell, or hold any investments. You are advised to conduct your own research before making any investment decisions. Use provided information at your own risk. See Disclaimer for more information.