No results for ""
We couldn't find anything matching your search.Try again with a different term.
Optimism Price (OP)
24h
24h Low / High
7d Low / High
30d Low / High
$13,295,930,258
552,323 BTC
Links:
Website, Explorers, Whitepaper
Optimism
OP
Optimism (OP) Chart
Optimism (OP) Return On Investment(ROI)
Optimism (OP) Price Now
Optimism price today is $3.1 with a 24-hour trading volume of $575,604,855. OP price is up 42.34% in the last 24 hours. It has a circulating supply of 234.75Mil OP coins and a total supply of 4.29Bil. In order to explore addresses and transactions, you may use block explorers such as
What Is Optimism(OP)?
OP is an ERC20 token that governs upgrades to the protocol and network parameters, and creates an ongoing system of incentives for projects and users in the Optimism ecosystem.
Optimism is a low-cost and lightning-fast Ethereum L2 blockchain. Optimistic Ethereum (OE) is simply an app inside Ethereum that executes transactions more efficiently than Ethereum itself. It's based on the concept of the [Optimistic Rollup], a construction that allows us to "optimistically" publish transaction results without actually executing those transactions on Ethereum (most of the time). OE makes transactions cheaper, faster, and smarter.
Are Optimistic Rollups safe?
Optimistic Rollups are safe as long as Ethereum itself is "live" (i.e. not actively censoring transactions). This security model is backed by a system of "fraud proofs," whereby users are paid to reveal bad transaction results published to the OE chain
How to Get Optimism(OP) Airdrop?
The Optimism Foundation's Airdrop #1 rewards those who have been instrumental as early adopters and active users of projects in the Optimism ecosystem. To celebrate our Ethereum roots, we also want to welcome active L1 participants who can help scale Ethereum's innovations, culture, and values to Layer 2. In total, 264,079 addresses are eligible to claim OP in this initial airdrop.
Our airdrop has six sets of criteria. Two for Optimism users that target early adopters and active project users, and four for L1 Ethereum, which target active contribution, positive-sum behaviors, and active participation. Each set is distinct, meaning that an address can be eligible for multiple and allocated a sum of tokens accordingly. A snapshot of addresses was taken on 03-25-2022 0:00 UTC. The allocations and criteria break down as follows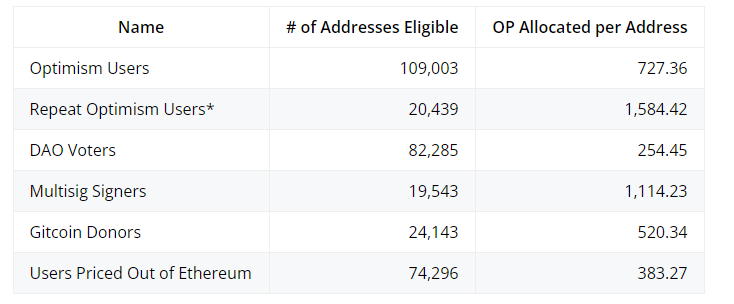 Where Can You Buy Optimism(OP)?
Investing in Optimism can seem complicated, but it is much easier when you buy Optimism through cryptocurrency exchange. Signing up for a cryptocurrency exchange will allow you to buy, sell, and hold Optimism — both for fiat money and other cryptocurrencies. Some of the most popular Optimism cryptocurrency exchange are:
Please check Optimism(OP) token address If you want to buy or sell Optimism(OP) on dex exchange. Beware of scams!
Click here to view Optimism(OP) price in different crypto exchanges.
Optimism(OP) Token Distribution Details
At genesis there will be an initial total supply of 4,294,967,296 OP tokens. The total token supply will inflate at a rate of 2% per year.
64% of the initial token supply (i.e., the aggregate amount of OP not reserved for core contributors or sugar xaddies) will be distributed to the community as described above. These distributions will be administered over time by the Optimism Foundation in its role as steward of the Optimism Collective.
In Year 1, 30% of the initial token supply will be made available to the Foundation for distribution. After the first year, token holders will vote to determine the Foundation's annual OP distribution budget. The Foundation expects to seek the following annual allocations:
Year 2: 15% of the initial token supply
Year 3: 10% of the initial token supply
Year 4: 4% of the initial token supply
If the Foundation's authorized OP expenditures ever reaches below 10% of the initial token supply, it is expected to request an additional allocation.
Optimism (OP) Community
Optimism (OP) Contracts
Any data,text or other content on this page is provided as general market information and not as investment advice.
OP Price Statistics

Optimism Price Today

Optimism Price

$3.1

Price Change24h

$0.9208 42.34%

24h Low / 24h High

$2.19 / $3.12

Trading Volume 24h

$575,604,855

Volume / Market Cap(%)

0.7931%

Market Dominance

0.06%

Market Rank

#66

Optimism Market Cap

Market Cap

$726,710,510

Fully Diluted Market Cap

$13,295,930,258

Optimism Price History

7d Low / 7d High

$2.03 / $3.12

30d Low / 30d High

$0.9464 / $3.12

90d Low / 90d High

$0.8004 / $3.12

52 Week Low / 52 Week High

$0.3995 / $13.14

All Time High

$13.14

All Time Low

$0.3995
Trending Coins and Tokens