No results for ""
We couldn't find anything matching your search.Try again with a different term.
Ethereum Name Service Price (ENS)
24h
24h Low / High
7d Low / High
30d Low / High
Links:
Website, Explorers, Whitepaper

Ethereum Name Service
ENS
Ethereum Name Service (ENS) Chart
Ethereum Name Service (ENS) Return On Investment(ROI)
Ethereum Name Service (ENS) Price Now
Ethereum Name Service price today is $14.05 with a 24-hour trading volume of $10,789,758. ENS price is up 0.37% in the last 24 hours. It has a circulating supply of 20.24Mil ENS tokens and a max supply of 100Mil.
$ENS Token Price
You can find $ENS Token Price at CoinCarp.com. CoinCarp(CC) provides Crypto Price Tracking, Exchange Ranking, Crypto Wallet Ranking, Crypto Data Analysis, and Crypto News & Information.
What Is Ethereum Name Service (ENS)?
The Ethereum Name Service (ENS) is a distributed, open, and extensible naming system based on the Ethereum blockchain.
ENS's job is to map human-readable names like 'alice.eth' to machine-readable identifiers such as Ethereum addresses, other cryptocurrency addresses, content hashes, and metadata. ENS also supports 'reverse resolution', making it possible to associate metadata such as canonical names or interface descriptions with Ethereum addresses.
What Are the Features of Ethereum Name Service (ENS)?
ENS has similar goals to DNS, the Internet's Domain Name Service, but has significantly different architecture due to the capabilities and constraints provided by the Ethereum blockchain. Like DNS, ENS operates on a system of dot-separated hierarchical names called domains, with the owner of a domain having full control over subdomains.
Top-level domains, like '.eth' and '.test', are owned by smart contracts called registrars, which specify rules governing the allocation of their subdomains. Anyone may, by following the rules imposed by these registrar contracts, obtain ownership of a domain for their own use. ENS also supports importing in DNS names already owned by the user for use on ENS.
ENS is deployed on the Ethereum main network and on several test networks. If you use a library such as the ensjs Javascript library, or an end-user application, it will automatically detect the network you are interacting with and use the ENS deployment on that network.
Who Are the Founders of Ethereum Name Service (ENS)?
It is started at the Ethereum Foundation in early 2017, ENS spun off with a separate organization in 2018. ENS development is managed by the Singaporean non-profit True Names LTD and is a public good, a basic piece of the Internet infrastructure that belongs to the community.
Nick Johnson, founder and lead developer of ENS.
Jeff Lau, Climber. Developer of ensdomains, Co-founder of wearekickback. Eth2 Validator.
What Is ENS Token?
$ENS are the governance tokens of Ethereum Name Service.
There will be 100 million total $ENS tokens, and the distribution is as follows:
25% airdrop to .ETH holders (>137k accounts)
25% to ENS contributors (>100 individuals and groups, plus hundreds of Discord users)
50% to the DAO community treasury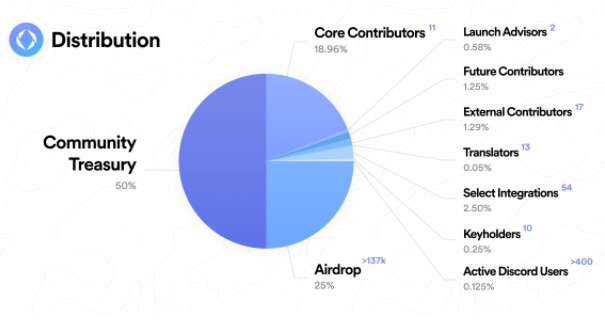 Ethereum Name Service (ENS) Community
Ethereum Name Service (ENS) Contracts
Any data,text or other content on this page is provided as general market information and not as investment advice.

Ethereum Name Service
ENS
ENS Price Statistics

Ethereum Name Service Price Today

Ethereum Name Service Price

$14.05

Price Change24h

$0.0518 0.37%

24h Low / 24h High

$13.88 / $14.31

Trading Volume 24h

$10,789,758

Volume / Market Cap(%)

0.0379%

Market Dominance

0.03%

Market Rank

#97

Ethereum Name Service Market Cap

Market Cap

$284,450,433

Fully Diluted Market Cap

$1,405,050,000

Ethereum Name Service Price History

7d Low / 7d High

$12.55 / $14.35

30d Low / 30d High

$10.1 / $18.46

90d Low / 90d High

$10.1 / $20.29

52 Week Low / 52 Week High

$7.39 / $53.95

All Time High

$85.69

All Time Low

$7.39
Trending Coins and Tokens