No results for ""
We couldn't find anything matching your search.Try again with a different term.
Ethereum Name Service Price (ENS)
24h
24h Low / High
7d Low / High
30d Low / High
Links:
Website, Explorers, Whitepaper

Ethereum Name Service
ENS
Ethereum Name Service (ENS) Chart
Ethereum Name Service (ENS) Return On Investment(ROI)
Ethereum Name Service (ENS) Price Now
Ethereum Name Service price today is $9.02 with a 24-hour trading volume of $16,353,758. ENS price is up 4.5% in the last 24 hours. It has a circulating supply of 30.16Mil ENS tokens and a max supply of 100Mil.
$ENS Token Price
You can find $ENS Token Price at CoinCarp.com. CoinCarp(CC) provides Crypto Price Tracking, Exchange Ranking, Crypto Wallet Ranking, Crypto Data Analysis, and Crypto News & Information.
What Is Ethereum Name Service (ENS)?
The Ethereum Name Service (ENS) is a distributed, open, and extensible naming system based on the Ethereum blockchain.
ENS's job is to map human-readable names like 'alice.eth' to machine-readable identifiers such as Ethereum addresses, other cryptocurrency addresses, content hashes, and metadata. ENS also supports 'reverse resolution', making it possible to associate metadata such as canonical names or interface descriptions with Ethereum addresses.
What Are the Features of Ethereum Name Service (ENS)?
ENS has similar goals to DNS, the Internet's Domain Name Service, but has significantly different architecture due to the capabilities and constraints provided by the Ethereum blockchain. Like DNS, ENS operates on a system of dot-separated hierarchical names called domains, with the owner of a domain having full control over subdomains.
Top-level domains, like '.eth' and '.test', are owned by smart contracts called registrars, which specify rules governing the allocation of their subdomains. Anyone may, by following the rules imposed by these registrar contracts, obtain ownership of a domain for their own use. ENS also supports importing in DNS names already owned by the user for use on ENS.
ENS is deployed on the Ethereum main network and on several test networks. If you use a library such as the ensjs Javascript library, or an end-user application, it will automatically detect the network you are interacting with and use the ENS deployment on that network.
Who Are the Founders of Ethereum Name Service (ENS)?
It is started at the Ethereum Foundation in early 2017, ENS spun off with a separate organization in 2018. ENS development is managed by the Singaporean non-profit True Names LTD and is a public good, a basic piece of the Internet infrastructure that belongs to the community.
Nick Johnson, founder and lead developer of ENS.
Jeff Lau, Climber. Developer of ensdomains, Co-founder of wearekickback. Eth2 Validator.
What Is ENS Token?
$ENS are the governance tokens of Ethereum Name Service.
There will be 100 million total $ENS tokens, and the distribution is as follows:
25% airdrop to .ETH holders (>137k accounts)
25% to ENS contributors (>100 individuals and groups, plus hundreds of Discord users)
50% to the DAO community treasury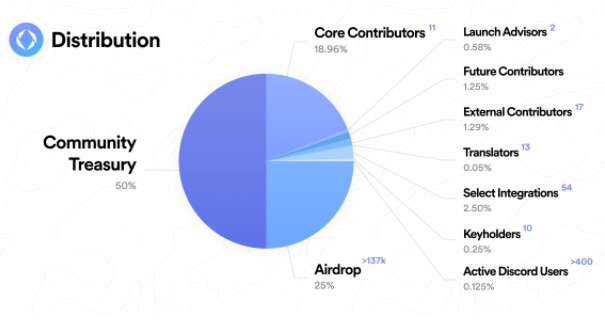 Ethereum Name Service (ENS) Community
What is Ethereum Name Service (ENS) Contracts address?
Ethereum Name Service FAQ
What is the price of Ethereum Name Service (ENS) token?
The current Ethereum Name Service usd price is $9.02. We update the Ethereum Name Service USD price in real time. Get live prices of Ethereum Name Service on different cryptocurrency exchanges around the world on Coincarp.
Is Ethereum Name Service (ENS) token a good investment?
It depends on your personal risk tolerance and investment goals. Ethereum Name Service is a cryptocurrency that is highly volatile and therefore may not be suitable for all investors. Before investing, please do your own research about cryptocurrencies, crypto wallets, cryptocurrency exchanges, and smart contracts, and it is crucial to understand the risks and potential rewards of investing in cryptocurrencies..
If you decide to get involved in Ethereum Name Service investing, you will also need to understand the Ethereum Name Service project's white paper, team background, tokenomics, and the overall market environment.
The main ways to get involved in Ethereum Name Service investing are by participating in Spot, Perpetual, ETF/Leveraged trading or pledging to earn interest. Perpetual and ETF/Leveraged trading are very risky and are not recommended for non-professionals.
Where can I buy Ethereum Name Service (ENS) token token?
You can buy Ethereum Name Service from a cryptocurrency exchange (CEX or DEX) or some cryptocurrency wallets. Usually we choose cryptocurrency exchanges to buy, most exchanges require you to set up an account and verify your identity before buying Ethereum Name Service. Cryptocurrency exchanges that currently support Ethereum Name Service trading include:

If there is any error, please feedback to us, our email is hello@coincarp.com. Please be aware that buying and selling Ethereum Name Service involves high risks.You should always do your own research and make sure you understand the risks associated with Ethereum Name Service trading before you begin.
How to short Ethereum Name Service (ENS) token?
The easiest way to short Ethereum Name Service is through margin trading, usually with Perpetual contracts, Futures contracts, ETF/Leveraged. Only a few cryptocurrency trading platforms allows short selling due to the considerable risk involved in this type of trading.
To start shorting Ethereum Name Service, open a margin account, provide some collateral for your short position, borrow some coins from the trading platform, and start short selling. Keep in mind that shorting Ethereum Name Service or any other cryptocurrency is high-risk. Exchanges that currently support shorting Ethereum Name Service are:

What will Ethereum Name Service (ENS) token be worth in 5 years?
It is impossible to predict what Ethereum Name Service will be worth in five years. The cryptocurrency market is highly volatile and can be affected by a variety of factors, such as US dollar policy, government regulations, technological progress, market sentiment, Ethereum Name Service's circulating supply and the development of project ecology. Therefore, it is impossible to accurately predict the price of Ethereum Name Service 5 years from now.
Any data,text or other content on this page is provided as general market information and not as investment advice.

Ethereum Name Service
ENS
ENS Price Statistics

Ethereum Name Service Price Today

Ethereum Name Service Price

$9.02

Price Change24h

$0.3882 4.50%

24h Low / 24h High

$8.62 / $9.08

Trading Volume 24h

$16,353,758

Volume/Market cap (24h)

6.01%

Market Dominance

0.02%

Market Rank

#145

Ethereum Name Service Market Cap

Market Cap

$271,947,017

Fully Diluted Market Cap

$901,600,000

Ethereum Name Service Price History

7d Low / 7d High

$8.14 / $9.08

30d Low / 30d High

$7.59 / $9.98

90d Low / 90d High

$6.68 / $9.98

52 Week Low / 52 Week High

$6.68 / $18.08

All Time High

$85.69

All Time Low

$6.68
Trending Coins and Tokens