No results for ""
We couldn't find anything matching your search.Try again with a different term.
Magic Price (MAGIC)
24h
24h Low / High
7d Low / High
30d Low / High
Links:
Website, Explorers, Whitepaper
Tags:
Arbitrum Ecosystem
Gaming

Magic
MAGIC
Magic (MAGIC) Chart
Magic (MAGIC) Return On Investment(ROI)
Magic (MAGIC) Price Now
Magic price today is $1.49 with a 24-hour trading volume of $80,486,343. MAGIC price is down -8.25% in the last 24 hours. It has a circulating supply of 206.41Mil MAGIC tokens and a max supply of 347.71Mil.
In order to search for real-time and historical information about Magic (MAGIC) blockchain, including data related to blocks, transactions, addresses, and more, you may use Magic (MAGIC) block explorers. Here are some of the most popular and useful Magic (MAGIC) blockchain explorers out there:
What is Magic Token Price?
You can find Magic token price at CoinCarp.com. CoinCarp(CC) provides Crypto Price Tracking, Exchange Ranking, Crypto Wallet Ranking, Crypto Data Analysis, and Crypto News & Information.
What Is Treasure?
Treasure is building composable economic resources to act as bridges between the growing network of metaverses. Cross-ecosystem ties are bolstered through our interrelated resource model:
$MAGIC (Power);
Treasures (NFT | Resources); and
Legions (NFT | Players)
Treasure originally began as a complementary addition to the Loot metaverse with composable currencies that adventurers would need in the new metaverse (8 "Treasures" in the form of an NFT). Treasure quickly developed a life of its own and evolved into TreasureDAO, which aims to create a gigaverse based on the interaction between two resources: Treasures and $MAGIC.
Treasure aspires to act as the bridge between metaverses. To become the base layer of disparate universes and to power and connect them. $MAGIC aims to be the reserve currency of the metaverse, fueling the ecosystem and making its resources productive.
How Does Treasure Works?
$MAGIC, MAGIC is the natural resource of the Treasure metaverse, which "powers on" NFTs and turns them from fantasy into productive, yield-bearing assets.
Treasures, Treasures (NFTs) are a set of economic resources shared across the metaverse. Players will be able to use Treasures to craft consumables or burn them for special effects.
Legions, Legions (NFTs) are the physical entities of the Bridgeworld, borne through spontaneous cracks and expanding entropies of the Bridgeworld.
Players take control of Legions and Mine, Farm, Craft, Quest, Battle, and more to propagate and build the Bridgeworld together.
Who Are the Founders of Treasure?
John,Founder | Creative Advisor
Yuta, Founder | Solidity Dev | Game Lead
What Is Magic(MAGIC) Token?
MAGIC is the natural resource of the Treasure metaverse. It "powers on" NFTs and turns them from fantasy into productive, yield-bearing assets.
MAGIC is designed to be increasingly scarce (emissions decline as the complexity of the economy increases) as it weaves an ever-growing web of narrative bridges within the Metaverse.
Players can earn $MAGIC through playing, mining, and participating in Bridgeworld. The Treasure ecosystem, therefore, is governed by $MAGIC holders.
Future MAGIC emissions will be distributed at the following ratios: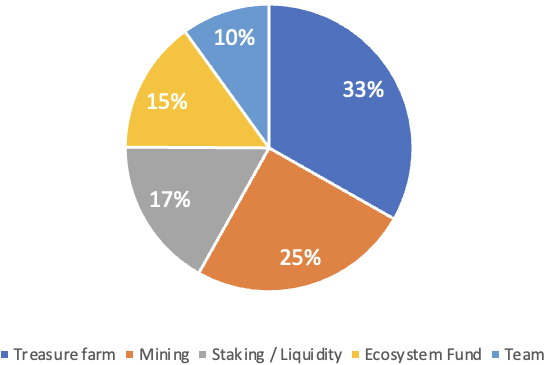 MAGIC emission mimics Bitcoin's halvening, but this event occurs every year as opposed to every four years. The total supply will be ~350,000,000 tokens.
Where Can I Buy Magic(MAGIC) Token?
Investing in MAGIC(MAGIC) Token can seem complicated, but it is much easier when you buy MAGIC(MAGIC) Token through a cryptocurrency exchange. Signing up for a cryptocurrency exchange will allow you to buy, sell, and hold MAGIC(MAGIC) Token — both for fiat money and other cryptocurrencies. Some of the most popular MAGIC(MAGIC) Token cryptocurrency exchanges are:
Magic (MAGIC) Community
What is Magic (MAGIC) Contracts address?
Magic FAQ
What is the price of Magic token?
The current Magic usd price is $1.49. We update the Magic USD price in real time. Get live prices of Magic on different cryptocurrency exchanges around the world on Coincarp.
Is Magic token a good investment?
It depends on your personal risk tolerance and investment goals. Magic is a cryptocurrency that is highly volatile and therefore may not be suitable for all investors. Before investing, please do your own research about cryptocurrencies, crypto wallets, cryptocurrency exchanges, and smart contracts, and it is crucial to understand the risks and potential rewards of investing in cryptocurrencies..
If you decide to get involved in Magic investing, you will also need to understand the Magic project's white paper, team background, tokenomics, and the overall market environment.
The main ways to get involved in Magic investing are by participating in Spot, Perpetual, ETF/Leveraged trading or pledging to earn interest. Perpetual and ETF/Leveraged trading are very risky and are not recommended for non-professionals.
Where can I buy Magic token token?
You can buy Magic from a cryptocurrency exchange (CEX or DEX) or some cryptocurrency wallets. Usually we choose cryptocurrency exchanges to buy, most exchanges require you to set up an account and verify your identity before buying Magic. Cryptocurrency exchanges that currently support Magic trading include:

If there is any error, please feedback to us, our email is hello@coincarp.com. Please be aware that buying and selling Magic involves high risks.You should always do your own research and make sure you understand the risks associated with Magic trading before you begin.
How to short Magic token?
The easiest way to short Magic is through margin trading, usually with Perpetual contracts, Futures contracts, ETF/Leveraged. Only a few cryptocurrency trading platforms allows short selling due to the considerable risk involved in this type of trading.
To start shorting Magic, open a margin account, provide some collateral for your short position, borrow some coins from the trading platform, and start short selling. Keep in mind that shorting Magic or any other cryptocurrency is high-risk. Exchanges that currently support shorting Magic are:

What will Magic token be worth in 5 years?
It is impossible to predict what Magic will be worth in five years. The cryptocurrency market is highly volatile and can be affected by a variety of factors, such as US dollar policy, government regulations, technological progress, market sentiment, Magic's circulating supply and the development of project ecology. Therefore, it is impossible to accurately predict the price of Magic 5 years from now.
Any data,text or other content on this page is provided as general market information and not as investment advice.

MAGIC Price Statistics

Magic Price Today

Magic Price

$1.49

Price Change24h

$-0.1339 8.25%

24h Low / 24h High

$1.46 / $1.67

Trading Volume 24h

$80,486,343

Volume / Market Cap(%)

0.2615%

Market Dominance

0.03%

Market Rank

#117

Magic Market Cap

Market Cap

$307,596,074

Fully Diluted Market Cap

$518,163,413

Magic Price History

7d Low / 7d High

$1.42 / $2.06

30d Low / 30d High

$0.9913 / $2.06

90d Low / 90d High

$0.4691 / $2.32

52 Week Low / 52 Week High

$0.2114 / $4.13

All Time High

$13.14

All Time Low

$0.2114
Trending Coins and Tokens