No results for ""
We couldn't find anything matching your search.Try again with a different term.
Biconomy Price (BICO)
24h
24h Low / High
7d Low / High
30d Low / High
Links:
Website, Explorers, Whitepaper
Tags:
Smart Contracts
Binance Labs Portfolio

Biconomy
BICO
Biconomy (BICO) Chart
Biconomy (BICO) Return On Investment(ROI)
Biconomy (BICO) Price Now
Biconomy price today is $0.4893 with a 24-hour trading volume of $10,648,654. BICO price is down -2.18% in the last 24 hours. It has a circulating supply of 150.82Mil BICO tokens and a max supply of 1000Mil. In order to explore addresses and transactions, you may use block explorers such as
What Is Biconomy(BICO)?
Web3 applications today face major roadblocks to user adoption in the form of terrible user onboarding & transaction experience. Almost every interaction with your Dapp is a complex transaction for your users. In comparison to intuitive web2 products that people are used to, Dapp's can be extremely frustrating.
Biconomy is solving for the makers and players of WEB 3.0. The mission is to simplify the future of transactions, ensuring that decentralization is truly accessible to all.
That's why ease and accessibility are imperative to innovations and solutions. Biconomy solve for developers, with the end user-centric.
What Are the Features of Biconomy?
Mexa - Enable Gasless Transactions. Biconomy provides different approaches to enable gasless transactions for your smart contracts. Biconomy provides contracts for you to inherit this functionality in your Dapps. Tokens such as Dai and USDC (and their permit functions) can be supported in your dApp, via Biconomy, using the Custom Implementation approach.
Forward - Enable Paying Gas in ERC20. Forward is a system Biconomy has made to make it easy for your users to cover their gas fees in ERC20 tokens. Biconomy has designed Forward to work for any Dapp on Ethereum, particularly Defi protocols and payments, where fees are impractical for teams to cover for their users, and users have the funds to cover gas (just not in ETH).
Who Are the Founders of Biconomy?
Ahmed Al-Balaghi, CEO & CO-FOUNDER
Sachin Tomar, CTO & CO-FOUNDER
Aniket Jindal, COO & CO-FOUNDER
What Is Biconomy(BICO) Token?
$BICO is the native work & governance token of the decentralized multi-chain relayer infrastructure.
Token Utility
$BICO plays a key role in decentralizing the network by acting as the network fees, incentivizing all stakeholders to secure and maintain the network, and participating in the network's governance.
Network fees: $BICO is the native token of the Biconomy blockchain. The Biconomy blockchain will act as a settlement and verification layer for all the activity on the Biconomy Network across all supported chains. The node operators (executors & validators) pay a transaction fee in $BICO to add any information on the chain and they earn $BICO proportional to the work they perform on the network.
Stakeholder incentives: 1. Node operators (Validators and Executors) have to stake $BICO to start contributing to the network. They earn $BICO proportional to their contribution and their $BICO stake. 2. Delegators are $BICO token holders who can stake their tokens to secure the network further. They earn $BICO proportional to their $BICO stake. 3. Liquidity providers can provide liquidity in a variety of crypto assets to the protocol's liquidity pools on different chains.
Governance: $BICO holders can propose and vote upon decisions affecting Biconomy's protocol and overall Network.
There are in total 1 billion $BICO tokens in supply. The token allocation is as shown below: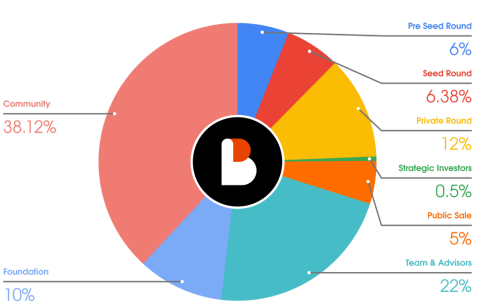 Where Can I Buy Biconomy(BICO) Token?
Investing in Biconomy(BICO) Token can seem complicated, but it is much easier when you buy Biconomy(BICO) Token through a cryptocurrency exchange. Signing up for a cryptocurrency exchange will allow you to buy, sell, and hold Biconomy(BICO) Token — both for fiat money and other cryptocurrencies. Some of the most popular Biconomy(BICO) Token cryptocurrency exchanges are:
Biconomy (BICO) Community
Biconomy (BICO) Contracts
Any data,text or other content on this page is provided as general market information and not as investment advice.

BICO Price Statistics

Biconomy Price Today

Biconomy Price

$0.4893

Price Change24h

$-0.010904 2.18%

24h Low / 24h High

$0.4798 / $0.5018

Trading Volume 24h

$10,648,654

Volume / Market Cap(%)

0.1442%

Market Dominance

0.01%

Market Rank

#210

Biconomy Market Cap

Market Cap

$73,795,562

Fully Diluted Market Cap

$489,300,000

Biconomy Price History

7d Low / 7d High

$0.4657 / $0.5742

30d Low / 30d High

$0.4398 / $0.7992

90d Low / 90d High

$0.3641 / $1.7

52 Week Low / 52 Week High

$0.3641 / $21.88

All Time High

$21.88

All Time Low

$0.3641
Trending Coins and Tokens