Không có kết quả cho ""
Chúng tôi không thể tìm thấy bất cứ thứ gì trùng khớp với tìm kiếm của bạn.Hãy thử lại bằng một cụm từ khác.
How to Buy A .eth Domain?
Every time when you want to transfer ETH to others, you have to use the long Ethereum address starting with "0x", it is not convenient, and easy to make mistakes, such as sending money to the wrong address. The solution is to map a human-readable name (.eth name) to your Ethereum wallet address. This article will briefly introduce the ENS(Ethereum Name Service) and show you how to buy a .eth domain.
What Is ENS(Ethereum Name Service)?
The function of ENS is to map human-readable names like "coincarp.eth" to machine-readable identifiers such as long Ethereum addresses(e.g. 0x18ac...). ENS also supports "reverse resolution", making it possible to associate metadata such as canonical names or interface descriptions with Ethereum addresses.
ENS is the blockchain version of DNS, the Internet's Domain Name Service, but has a significantly different architecture due to the capabilities and constraints provided by the Ethereum blockchain. Similar to DNS, ENS operates on a system of dot-separated hierarchical names called domains, with the owner of a domain having full control over subdomains. Anyone who owns a domain at any level may configure subdomains. Ethereum Name Service started at the Ethereum Foundation in early 2017, ENS spun off with a separate organization in 2018.
What Does It Cost to Register/Buy A .eth Domain?
Currently, registration costs are set at the following prices:
5+ character .eth names: $5 in ETH per year.
4 character .eth names: $160 in ETH per year.
3 character .eth names $640 in ETH per year.
3 and 4 character names have higher pricing to reflect the small number of these names available.
Where Can I Buy A .eth Domain?
You can establish a web3 connection from an Ethereum wallet. (Such as Metamask, WalletConnect, etc.) to register, or buy your own .eth domain through https://ens.domains/.
How to Buy A .eth Domain?
Before buying a .eth domain, you need to install an Ethereum crypto wallet such as MetaMask. Deposit enough ETH to your account for buying a .eth domain. The fees include the registration fee(shown above) and the gas fee. Then you can start to buy a .eth Domain from https://app.ens.domains/, the steps are as follow:
Step 1: Install MetaMask, deposit ETH, login, and switch to the Ethereum network. (Visit EVM Chain List to configure the network)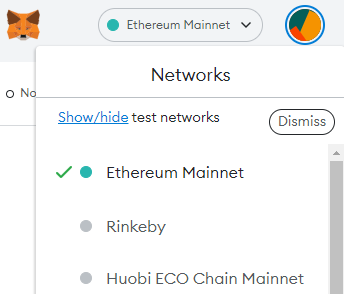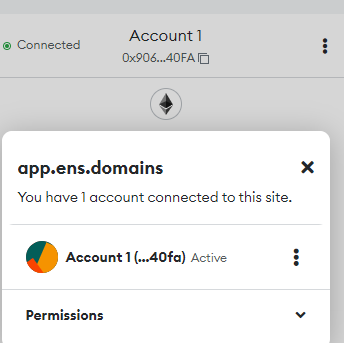 Step 3: Search for the "name that you desire".eth name you would like to use. Then the system will tell you whether the name you have input is available or not. If the name is unavailable, you would see a grey bar left to the .eth name. If you click it, you would see the information about the registered ENS records. If the name is available, you would see a green bar left to the .eth name.


Step 4: If the name is available, click it and then select the year you would like to own the name(at least for 1 year). Then click "Request To Register".

Step 5: Click "Confirm"while MetaMask pops up a box to approve the transaction.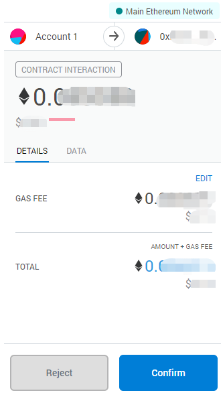 Step 6: Wait patiently and don't close the browser. Once the waiting time is up, you will see"Click register to move to the 3rd step"

Step 7: Click on the blue "Register" button and submit the transaction. When it is confirmed, your ENS is registered successfully.

Step 8: With the instruction on the website page, you can bind your old Address to your new ENS name.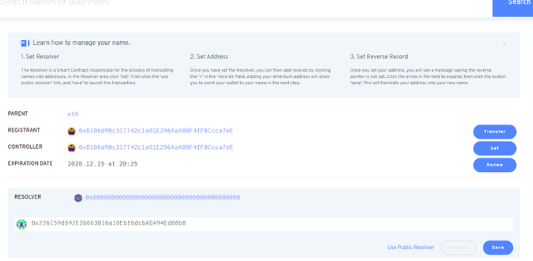 However, if the name is unavailable, you may contact the person who owns the domain name and buy it from the owner. The owner may leave the contact information on the "RECORDS" tab. People can earn profits from the rarity of the ENS name.

Stay tuned to CoinCarp Social Media and Discuss with Us: