Không có kết quả cho ""
Chúng tôi không thể tìm thấy bất cứ thứ gì trùng khớp với tìm kiếm của bạn.Hãy thử lại bằng một cụm từ khác.
How to Buy Cryptocurrency on Pancakeswap?
Most people tend to buy crypto from centralized exchanges, such as Binance, OKX, especially for beginners. However, some early projects were only listed on DEX(decentralized exchange), such as Pancakeswap or Uniswap. It is not that easy for newbies to trade on DEX, in this article, we will show you how to buy cryptocurrency on Pancakeswap.
What Is Pancakeswap?
PancakeSwap is the leading decentralized exchange on BNB Smart Chain, with the highest trading volumes in the market. Unlike centralized exchanges like Binance or Coinbase, PancakeSwap doesn't hold your funds when you trade: you have 100% ownership of your own crypto. Different from centralized exchanges, PancakeSwap uses a pricing method called Automated Market Maker (AMM) that allows users to trade without an order book.
What Is the Trading Fee of Pancakeswap?
When you make a token swap (trade) on the exchange you will pay a 0.25% trading fee, which is broken down as follows:
0.17% - Returned to Liquidity Pools in the form of a fee reward for liquidity providers.
0.03% - Sent to the PancakeSwap Treasury.
0.05% - Sent towards CAKE buyback and burn.
PancakeSwap runs on BNB Smart Chain, a blockchain with much lower transaction costs than Ethereum or Bitcoin. Trading fees are lower than other top decentralized exchanges.
How to Connect Wallet to Pancakeswap?
To buy cryptocurrency on PancakeSwap, the first thing you'll need is to set up a wallet that supports BNB Smart Chain (BSC).
The following crypto wallet list is supported by PancakeSwap:
Trust Wallet Android/iOS
MetaMask Android/iOS/Desktop
Coinbase Wallet Android/iOS
Wallet Connect Wallet (e.g. Argent, Rainbow) Android/iOS
Binance Smart Chain Wallet
TokenPocket
MathWallet
Safepal
Coin98
Blocto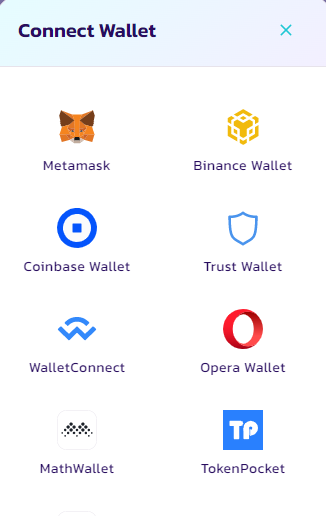 In general, if you want to connect wallet to pancakeswap, the procedures are as follows:
Step 1: Install and Set up a new wallet, such as Metamask. ( More to learn how to use crypto wallet, please check here)
Step 2: Set up your wallet network to BNB Smart Chain. The setup methods are different from crypto wallets. For Trust Wallet Android version, you can get the setting on DApps-Pancakeswap, as for Metamask chrome version, you can switch networks by using EVM Chain List tool.

Step 3: If you are using chrome and have installed one of the crypto wallets successfully, you can click on "Connect Wallet" on the upper right top on Pancakeswap and then choose the Wallet you are using and connect.

Now that you have connected your wallet to PancakeSwap.
How to Send BNB to Your Wallet?
Because Pancakeswap is built on BNB Smart Chain. If you want to trade on Pancakeswap, you will need to pay gas in the form of BEP20 BNB. So you will need to have some BNB in your crypto wallet. The easiest way is to purchase some BNB from Binance.com and then withdrow to your wallet. Take Metamask, for example, the steps are as follows:
Step 1: Copy your wallet address. Switch to Binance Smart Chain Mainnet, the address is shown on the top of Metamask.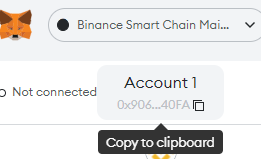 Step 2: Go to Binance and buy some BNB with fiat currency or trade with stable coins, click on the "Wallet"-"Withdraw", then search for "BNB". Paste your own wallet address, then on the transfer network, make sure you have selected Binance Smart Chain (BSC) or BEP20 (BSC).
Step 3: Click submit and follow the verification steps. Your BNB will arrive very shortly in your Metamask wallet while successfully withdrawing.
How to Buy Cryptocurrency on Pancakeswap?
Now you can trade on the Pancakeswap exchange.
Step1: Go to the Pancakeswap exchange page here.
Step 2: After connecting to your wallet successfully, choose the token you want to trade from the dropdown menu in the "From" section. The default setting is BNB.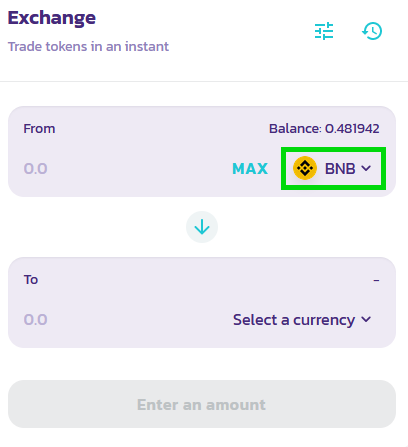 Whichever token you choose, you will need to make sure you have some to trade with. Your balance is shown above the token dropdown menu.
Step 3: Choose the token you want to trade to in the "To" section as above. Next, type an amount for your "To" currency by clicking inside the input box.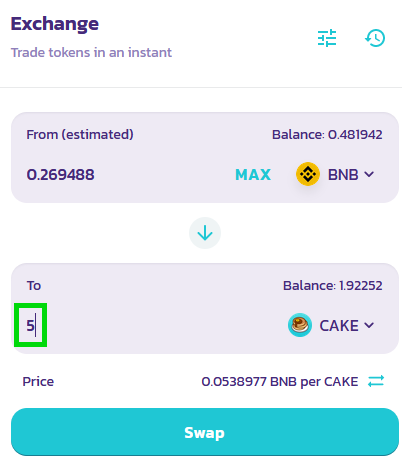 Your "From" currency amount will be estimated automatically. You can also type your "From" amount and have the "To" amount estimate automatically if you like.
Step 4: Check the details, and click the Swap button.

Step 5: A window with more details will appear. Check the details are correct. When you are ready, click the Confirm Swap button. Your wallet will ask you to confirm the action.
Now is Done! You can click View on BscScan to see your transaction details on the explorer.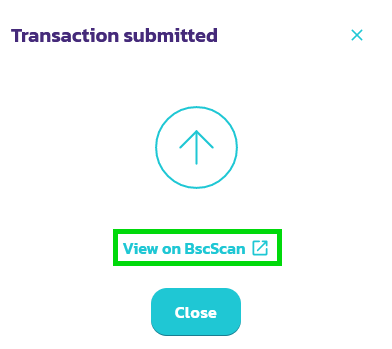 Tuyên bố miễn trừ trách nhiệm: Thông tin được tìm thấy trên CoinCarp là của những người viết được trích dẫn. Nó không đại diện cho ý kiến ​​của CoinCarp về việc nên mua, bán hay nắm giữ bất kỳ khoản đầu tư nào. Bạn nên tiến hành nghiên cứu của riêng mình trước khi đưa ra bất kỳ quyết định đầu tư nào. Sử dụng thông tin được cung cấp có nguy cơ của riêng bạn. Xem Tuyên bố miễn trừ trách nhiệm để biết thêm thông tin.